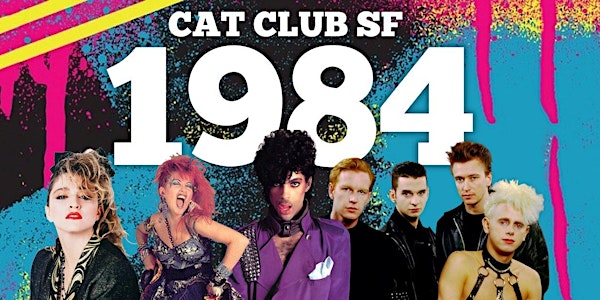 "1984" Free every Thursday at the Cat Club
Join us every Thursday as it's FREE to get in all night! We play a continuous mix of hella rad New Wave 80's music all night long
When and where
Location
Cat Club 1190 Folsom Street San Francisco, CA 94103
About this event
"1984" at the Cat Club
brings you back to the 80's
with all the best dancing
to amazing music
every Thursday night in San Francisco.
Resident DJ Damon,
does the Rock, Pop and
One hit wonders you crave.
We also have a different
guest DJ every Thursday,
so come down and sample the best
of what San Francisco
has to offer!
Visit our superb bar and sample our wide variety
of drinking delights we have to offer! Say 'Hello' to
Randy, Rachel, Waiyde or anyone else behind the bar.
Hosted by Randy Maupin.
1190 Folsom near 8th in San Francisco.
Open every week at 9pm. 21+ w/ID.
Below is a sample of some but not all of the
music you might expect to hear:
Duran Duran-Talking Heads-Siouxsie-The Cure
Frankie goes to Hollywood-New Order - Blondie
Joy Division-The Jesus and Mary Chain-The Smiths
Prince-Madonna-Book of Love-Erasure
Depeche Mode-Romeo Void-Wham!-Dead or Alive
Tears for Fears-Adam and the Ants-Pet Shop Boys
Blondie-Billy Idol-Eurythmics-A-Ha-Dramarama
Guns N' Roses-The Clash-David Bowie-Yazoo
Gary Numan-Morrissey-The Pretenders-Devo
Salt N Pepa-Inxs-Alphaville-The B-52's-Violent Femmes
The Sisters of Mercy-Berlin-Ministry_Cyndi Lauper
Echo & the Bunnymnen-INXS-Dexys Midnight Runners
The Cars-Bananarama-The Fixx-Robert Hazard
Howard Jones-Men without Hats-Nena-Split Enz
Soft Cell-Talk Talk-Kraftwerk-Translator-Thompson Twins
ABC-When in Rome-Japan-Animotion-Gene loves Jezebel
The Lords of the New Church-Baltimora-Cetu Javu
A Flock of Seagulls-Heaven 17-Lene Lovich
Grace Jones-The Scorpions-Def Leppard
Modern English-Iggy Pop-Real Life-Tom Tom Club
Noel-Laura Branigan-hall & Oates-Culture Club
Pat Benatar-The Buggles-Trans X-Grauzone-Sex Pistols
Peter Schilling-Falco-Skinny Puppy-Nitzer Ebb
Q Lazzarus-Kim Wilde-Naked Eyes-Rick Astley
The Simple Minds-Stevie Nicks-George Michael
Queen-Men at Work-Whitney Houston-Corey Hart
George Kranz-Orchestral Manoeuvres in the Dark
Tiffany-Journey-Kool & the Gang-Poison-Madness