RYAN WOODS + Gabe James 3.3.22 @ Brick & Mortar Music Hall 8pm doors, all ages welcome
About this event
MEET RYAN WOODS – HE'S A BAD TEXTER BUT A GREAT ARTIST
October 4, 2020 by Ananmay Sharan
First off, introduce yourself!
My name is Ryan Woods and I make songs. I don't know, that's as simple as it gets.
This is going to be this is a bit weird, but I think I've seen a video of you dressed as a water bottle front flipping. I was doing research for this and I was like "there's no way it's the same video that I saw on Instagram like a couple of years ago."
*Laughs*. Yeah, so when I was like a freshman in high school I was in band and we had a band Halloween costume Party. Whoever won got a $20 like Chick-fil-A gift card. So I'm just sitting at my kitchen table like "I guess I'm not gonna have a costume". My brother walks down the stairs and flips a water bottle onto the counter.
And I was like "I can do that!". I was always a jumpy kid, I loved climbing things and jumping off rocks and stuff.
I put those two together and was like "Mom, do we have any Saran wrap?". Just Saran wrapped myself and took a water bottle case and just punched holes in it for my arms!
I'll have to steal that for Halloween this year. Your new song "Pillow" is out in the world. Your second song officially released. How does it feel?
It feels amazing. I've been working on, my own music, trying to get it to a place where I'm proud of it and ready to release it for 4 or 5 years now. It wouldn't have been too long after that video that my manager discovered me and started kind of helping me develop into, a good artist.
I'm a pretty introverted, soft spoken guy, especially when it comes to harder to talk about subjects. So when I get to release a song it's like I can finally like release those emotions and feelings into the world.
It's always been like a challenge for me to, like, you know, express myself and find a way that's healthy to do that. And then music happened. And then I was able to, you know, start pouring myself into those songs. Yeah, it's always an amazing feeling.
The song is pretty lyrically unique. How did you get the idea for that?
Honestly, dude, like I was just sad about a girl I just met. It wasn't that I was sad about her specifically, it was one of those like people I met that made me realize, like "fuck, I'm lonely". In a party setting and like she was older than me and stuff. It was all in my head. Basically, like I was just like entertaining things and like you know letting my mind wander. I was just thinking about things like, "what if that is like my future wife" or something. I just started thinking about things like that — I never really thought about those things a lot cause I've never truly like felt lonely. I've I always believed I was like fine by myself. But yeah, met this amazing girl and was like. "I want this." Not just her but I just wanted to feel loved, so I went home to my apartment was just laying in bed thinking about the night.
Just out of habit when you're laying in bed, you kind of hug your pillow and I was like "Damn. This isn't a person. I just like need a hug right now!"
Just a moment of inspiration and I was like, "wish my pillow would hug me back" and I instantly just like got up and I was like "I'm a genius!". *Laughs*. Got up, started writing this song and, uh, I ended up connecting it with another idea that I had started like a couple months before. So that was the song!
How long have you been waiting to release the song? Because I saw you tweeted the lyrics out like June of 2019, so it's been a minute.
That song has been in my notes. In my voice memos for almost two years.
I had an EP that was developing like a year and a half ago, but we ended up moving on from all the songs, which was really, really sad. I still want to bring some of them back at some point in like revamp, 'em and update them, but 'cause they're great songs.
I wrote my first song in 2016. Honestly been a long ride, 'cause as soon as I wrote that first song I was like, "Oh, I can do this!" And now, four years later, I look back at that first song so glad I didn't [release it]. I went through a lot of questioning like, "why aren't things happening for me yet?"
And I kept forgetting "Oh I'm only like 16, 17 years old. You know, I'll be fine". But I still had friends that were like releasing music and were doing really well. But I wouldn't change the timing of it for anything.
Do you have a favorite line? Mine is "No offense, but you look like a mom" which is such a sick line to have in the song.
That is probably my favorite line. Between that and "I wish my pillow would hug me back". I think those are the two iconic lines from that song. I was entertaining like this whole like life with her, not the girl specifically, but just the idea of her in my life and so I was like, "yeah, you look like you could be the mom of my kids!"
Like no offense, this is the most flattering way I could say this, but you look like a mom, girl.
Does the girl know the song is about her? Do you think she would have realized?
"Oh, hell no". I haven't even seen her or talked to her since like night. I don't even really know her.
Yeah, I think you just need to go all in on the pillow merch. Full on body pillows of Ryan next to me and everything.
Like a Ryan shaped pillow.
Just life size would be so sick.
With like built-in, like arms that.
Yeah, it's like you press a button and it sings. It sings the chorus.
And then hug you.
Exactly, just solve loneliness around the world.
*Laughs*.
Let's talk about "Bad Texter" for a bit. What does that song mean to you?
Leading up to it, I was always doubting like "is this the song I should release first? Is this the one?". You always have those doubts, I think just in the back of your mind, but once it happened, there couldn't have been a better like introduction of me. One of my main like traits is that I sit in front of this desk all day and don't check my phone, I'm really bad. I just like tuning out, which I guess isn't the worst thing but when I have managers and A&Rs etc trying to get ahold of me. I've lost possible future relationships because I'm just poor at communicating. I don't focus on anything else except for just sitting here. And writing and working on my art.
Yeah, one of my top three favorite songs I found this summer. It's not like something you would say out loud like oh, I'm bad at communicating with my phone, but like when you put it in a song that kind of puts it in a different context. And I thought that was cool to see.
The song is about me being "I'm really sorry I'm a bad texter. I wish I wasn't." That's the tone of it – apologetic, but also kinda doesn't give a ****.
Talk about the DIY energy you try and maintain in your music. It doesn't feel too polished but it also doesn't sound amateurish.
It feels that way cause everything starts with right here in my bedroom. I don't have a lot of equipment, just have a pretty basic microphone and room monitors. Shitty guitar. And a two octave MIDI keyboard. I'm kind of limited to what I can do, and it's exciting to see, exploring my limits so I can break 'em almost.
And it's crazy that nowadays, like that's all you need you need, like maybe Logic or FL studio, or Ableton or whatever and those like three or four or five things and you can make like hits from your bedroom pretty much yeah. So it blows my mind whenever I think about like kids just doing that constantly.
And listen, I have this grand theory about our world right now.
Oh, let's hear it.
It I believe we're in the midst of the second Renaissance. I believe this wholeheartedly because just because, it's like a technological renaissance. You can make albums and pump out records and score movies from your bedroom. You can paint something or post a video online and instantly reach millions of people. You know, express yourself.
There's so much individuality now with Spotify and streaming, you can find exactly the kind of music you like to listen to. You can personalize almost everything about your music taste. You're not stuck listening to the radio that only plays a certain sound.
I definitely agree.
Despite it being your "official debut", I know you started out posting covers on social media and you have some songs on Soundcloud. If a 15 or 16 year old Ryan could hear the new songs and see the reaction to them, what would he think?
Never actually really thought about that. Super interesting. I'd be proud of my progress.
I think when you're in the present, it's easy to get discouraged when you're looking ahead and are like "I'm not where I want to be". Very like seldom do you look back to think about it the opposite way like, "Oh, you know, four years ago, what would I think of this?" I think I'd be incredibly stoked for where I am today.
I definitely think I'm a lot cooler now than I was when I was 15.
Who were some of your like around that time when you were growing up? Who were you listening to? Who influenced your music?
Probably my earliest two influences are Bruno Mars and John Mayer. I had a little CD stereo player and I would just sit in front of it and loop "Doo Wops and Hooligans".
I always loved Queen. My mom put me onto Queen from a very young age. I probably knew all the lyrics, even the nonsense of in Bohemian Rhapsody since I was like 5 years old.
I know you're signed to a record label now or have been for a bit. How does that differ from being on your own? Is it a different set of challenges? Expectations?
Yeah, it's always different.For the longest time was just only me and then eventually it was only me and my manager who was giving me feedback.
When you have a team people around you, I send a song I'm working on and I get feedback. For the first time like I was getting criticism on my song and like had to get used to that, which was weird at first. That was kind of something I had to get over and realize "They think I can do be better and beat myself.
So it took some time.
But overall, like it's. It's really sick to have a team of people that back me 100%.
If you could put your music into any movie, what movie would it be?
Probably the new Dune movie coming out with Zendaya and Timothée Chalamet.
Who was the last person you didn't text back?
Grady. (Sorry, Grady!)
Guess that song is never coming out, but no, I'm kidding. How many pillows do you sleep with?
2 two plus my cat.
YouNow or TikTok?
This is deep. This is a deep question. Yeah, 'cause you're coming from my roots? Probably TikTok. Definitely. Get me verified please!
You gotta asked the label for that one. I'm sure they can set you up, who is your dream collaboration?
I know this is a basic ass answer, but Harry Styles.
Thank you so much for hanging out!
You asked great questions! No, you did your research.
Do you know who Nardwuar is? Yeah, this is like a shitty version of Nardwuar. There's no gifts. We just ask slightly weird questions about stuff that we shouldn't know about.
*Laughs*.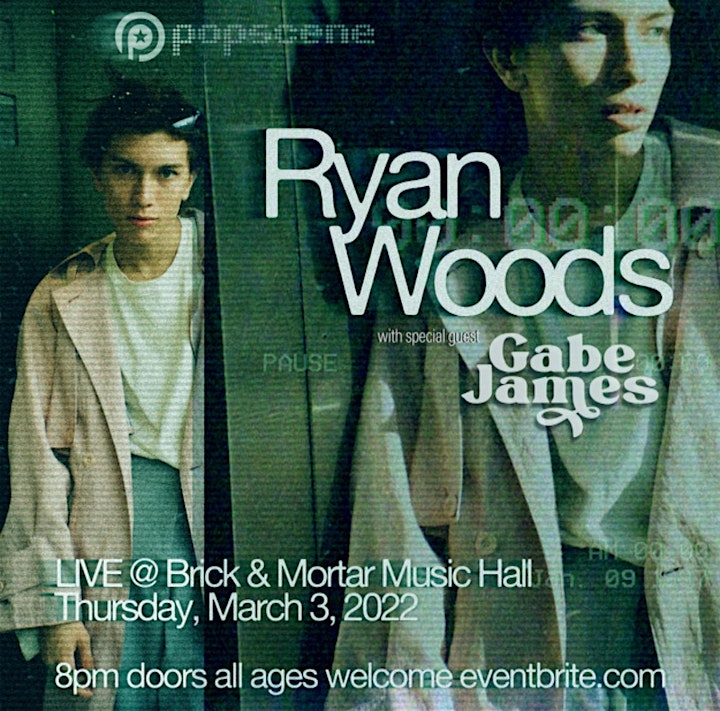 San Francisco's long-running weekly indie party Popscene showcases new and emerging artists each week and our resident DJs Aaron Axelsen and Omar spin the very best of indie, britpop, post-punk, electronic, synthpop and more. Popscene is every Friday at Rickshaw Stop, though we'll occasionally throw parties at other fine Bay Area venues, too. So yeah, come out and dance and check out some amazing new bands and DJs @ Popscene