AN EVENT CELEBRATING EMERGING BUSINESSES, MUSIC & TALENT
About this Event
Palm Beach County was founded in 1909 and over 100 years later revolutionary innovations, ideas and creative projects are still be founded here every day. 1909's mission is to provide holistic support to the creators bringing these ideas to life in an effort to foster this community and keep our talent local.
Pitch Competition
Watch the top 6 teams graduating from the 1909 Accelerator courses pitch their ideas to the community to win cash and other prizes.
Music Showcase
Connect with local musicians as they showcase their talents and passion for fostering the local music scene.
Table Talks
Connect with local organizations in our engaged community to discuss topics such as urban place-making, community development, urban youth impact initiatives, etc.
Schedule of Events
5:00pm: Table Talks Begin
5:00 - 7:00pm: Music Showcase Part 1
7:00 - 8:30pm: Pitch Competition
8:00 - 10:00pm: Music Showcase Part 2
10:00pm: Pitch Winner(s) Announced
10:15- 11:00pm: Music Showcase Part 3
After Party: Location TBA
SUPPORT THE FOUNDERS, MUSICIANS AND COMMUNITY ORGANIZATIONS BY MAKING AN EXTRA DONATION TO THE MICRO-GRANT FUND AT CHECK-OUT.
***100% OF THE MICRO-GRANT FUNDING GOES DIRECTLY TO PARTICIPANTS IN THE PITCH COMPETITION AND MUSIC SHOWCASE AND WILL BE MATCHED DOLLAR FOR DOLLAR BY THE KNIGHT FOUNDATION, SO $25 BECOMES $50 :)
Music Showcase Bands:
Pitch Competition Businesses:
Activist Table Talks:
West Palm Beach Downtown Development Authority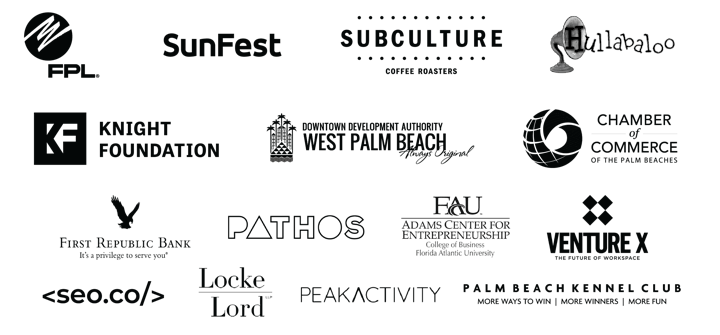 VIP SUNFEST TICKETS
***No purchase is necessary to win. You can email hello@weare1909.org to enter. Only one entry per person. Winner must be present to claim prize. Prize must be claimed on 11/23/2019 by 11:59pm EST.