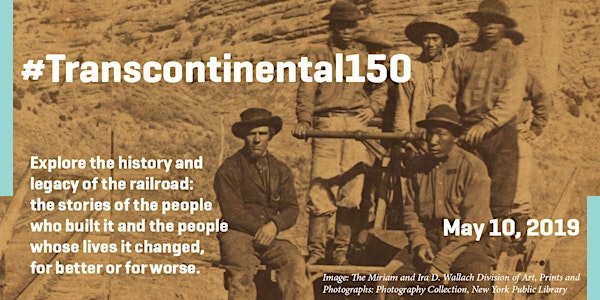 1882 Symposium VII - 150 Years Later: From Invisible to Visible
When and where
Location
Smithsonian National Museum of American History 1st Floor, SC Johnson Center 1300 Constitution Avenue Northwest (note: Use Constitution Avenue Entrance and Give Name to Security) Washington, DC 20560
Description
You are invited!
Please join the 1882 Foundation at our 7th Annual 1882 Symposium, an annual gathering of cultural institutions, museums, and federal agencies to connect and strategize on Chinese American history and culture. This is a special year of collaboration, gathering together to commemorate the sesquicentennial of the completion of the first Transcontinental Railroad (TRR) and to set milestones for registering historical places and affecting public education on Chinese American history.
Important Notes:
· Please enter the museum from the Constitution Ave entrance between 30 minutes before the scheduled start time. Registrants will be able to enter the building before it opens to the public at 10:00am. An 1882 Foundation representative and Smithsonian employee will be outside to assist with entrance.
· Your bags will be checked by security when you enter.
· There are restrooms near the workshop space and elevator access to the 1st floor.
· A light breakfast will be provided.
---
Day 1: Thursday, May 9, 2019
9am - 2pm Roundtable on History and Places
Location: National Museum of American History - please enter through the Constitution Avenue Entrance by 8:45am, and give your name to security.
1st Floor
SC Johnson Center

Part I - Introductions & 2018 Summit Tunnel Overview

Part II - Working Group: (observers welcome with opportunities to engage, Q&A) -
Elevating the Summit Tunnel Area to National Prominence, Recognizing its Significant Historic Importance
11:00am - 12:00pm - Strategies for Historic Preservation and Interpretation of Summit Tunnel Sites
12:00pm - 1:00pm - National and Local Funding, Resources, and Partners
1:00pm - 2:00pm - Summary of Strategies and Actions
This year's Symposium builds on our successful tour of the Chinese RR Worker sites in the Sierra Nevada mountains of California, and looks forward to national commemorations of the Chinese American experience this year and beyond. We will explore options to better define, interpret, and preserve the Summit Tunnel area including considerations to listing it in the National Registry of Historic Places, and strategize for securing appropriations for establishing an Interpretive Center there and for APIA sites in general.
2:00-2:30pm - Travel to the Library of Congress
3-5pm - Remarks by Rep. Judy Chu
Location: Members Room, Library of Congress
Welcome by Phoebe Coleman, Library of Congress
Remarks by Congresswoman
Judy

Chu

on APIA Heritage Month
Comments on the TRR and Summit Tunnel Ted Gong, 1882 Foundation
Please join us at at the Library of Congress as Rep. Judy Chu remarks on the APA Heritage Month and Transcontinental Railroad. Visitors will also have additional opportunities to view commemorative displays from the Library's holdings about the railroad and its impact on the United States.
Please RSVP separately to 1882symposium@gmail.com.


---


Day 2: Friday, May 10, 2019
Location: National Museum of American History - please enter through the Constitution Avenue Entrance by 9:45am, and give your name to security.
1st Floor
SC Johnson Center
Symposium Sessions and Public Programming: On the day of the 150th anniversary of the TRR completion, and the second day of the Symposium, we will feature our discussion sessions outlined below, as well as the Smithsonian's public programs and broader TRR-related activities.


10:00 - 11:15am - Building Collaborations through Digital Storytelling - join a conversation in digital collaboration, building on the 50 Objects Partnership with the Tenement Museum and determining our next steps. Join MOCA's curatorial team and Julia Mushalko from the Tenement Museum as we strategize the cross-institutional collaboration for the upcoming exhibition "Gathering" (Fall 2019), which is collecting histories of cultural institutions that preserve and interpret Chinese American history.


11:15 -12:45pm - Public Education - Top Down and Grass Roots Efforts to Teach Asian American History.
Three activist educators from three states gather together to share their efforts to teach Asian American History. We will exchange ideas and compare efforts in Virginia, California, and Oregon, and share best practices and guidance on how to directly influence standards of learning in your state.


2:00 - 3:30pm -

Creative Approaches to History and Storytelling - engage with contemporary artists of varied mediums (photography, poetry, and design) discussing how Chinese American History and APIA identity affects their work. We are excited to welcome Utah Poet Laureate Paisley Rekdal, Photographer Philip Cheung, and Kevin Chao and Kenneth Lian of

Made with MSG

into conversation for this interactive session. Will also include a viewing of Zhi Lin's video installation "Chinaman's Chance on Promontory Summit: Golden Spike Celebration."







Public Programs
May 10, 2019
12:00pm - 1:00pm | 2:00pm - 3:00pm -

"Objects-Out-Of-Storage" Presentation
Wallace H. Coulter Plaza, National Museum of American History
The first part of this presentation (12-1pm) explores the history of Chinese food and restaurants in America with objects from museum's Chinese food and restaurant collection dating from the 19th century to modern day. The second half (2-3pm) will present coins from the National Numismatics Collection related to the TRR.
1:00pm - 2:00pm :

Cooking Up History
Wallace H. Coulter Plaza Demonstration Kitchen
, National Museum of American History
A public cooking demonstration by Chef Martin Yan on the kinds of foods the Chinese laborers would have eaten while working on the railroad.
4:00pm - 5:30pm -

"Red Altar" Performance by Eth-Noh-Tec
Presidential Reception Suite, National Museum of American History
A performance by the San Francisco-based Kinetic Theater troupe, Eth-Noh-Tec, who seeks to build cultural bridges that create compassionate communities through the performance of Asian and Asian American stories.
May 11, 2019
9:00am - 10:00am
Morning at the Museum -

National Postal Museum
This event provides early admission to the National Postal Museum and facilitated activities for visitors with cognitive and sensory processing disabilities.
10:00am - 4:00pm
Train Day - National Postal Museum
The National Postal Museum presents its annual "Train Day," with a full day of free family-friendly activities and demonstrations all about trains and the Transcontinental Railroad. Visitors can learn about the history of mail and the railroads from education carts, open May 10-12. For full event information check:

https://postalmuseum.si.edu
.
6:00pm - 8:00 pm
Poetry After Hours: Poetry Im/migration, Labor and Trains -

National Postal Museum
A special poetry reading and presentation by poets Paisley Rekdal (Utah's State Poet Laureate), Regie Cabico, and Marilyn Chin. They will share recent work about the transcontinental railroad, its legacy, and connections to Asian American identities. Refreshments will be provided.