We've been waiting and finally it's time to see who will win the EURO CUP!
About this event
Soccer fans from all counties will converge at Wunder Garten to watch the UEFA Euro 2021 matches and finals. Beginning Friday June 11th through Sunday July 11th.
Here is what to expect:
Watch select UEFA Euro 2021 games at Wunder Garten. (See Ticket Selections for Games)
Games will be celebrated in partnership with countries' embassies. (UK Embassy, German Embassy, & French Embassy. Additional embassies will be added.)
Wunder Garten characteristically has a German selection, but In addition to our German and American Craft beers we're widening our selection to include other European beers for the Euro Cup!
And...
Wunder Garten will donate $1 to DC Scores for every Dogfish Head Beer purchased. Also there will be special day-of-event raffles and other fun ways to further DC Scores!
Check WunderGartenDC.com or follow our Instagram, Facebook, and Twitter for updates and special deal.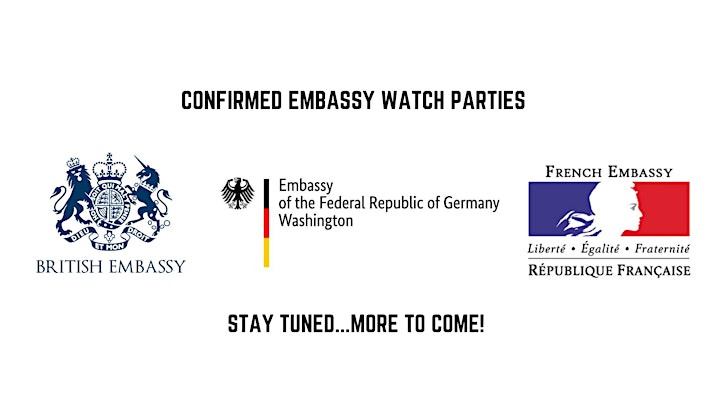 Current Game Schedule (Please note games are subject to change.)
Friday, June 11
Group A – Turkey vs. Italy, 2:30 p.m. ET (ESPN, Univision, TUDN)
Saturday, June 12
Group B – Belgium vs. Russia, 2:30 p.m. (ABC)
Sunday, June 13
Group D – England vs. Croatia, 8:30 a.m. (ESPN)
Group C – Austria vs. North Macedonia, 11:30 a.m. (ESPN)
Group C – Netherlands vs. Ukraine, 2:30 p.m. (ESPN)
Monday, June 14
Group E – Spain vs. Sweden, 2:30 p.m. (ESPN)
Tuesday, June 15
Group F – Hungary vs. Portugal, 11:30 a.m. (ESPN)
Group F – France vs. Germany, 2:30 p.m. (ESPN, Univision, TUDN)
Wednesday, June 16
Group A – Italy vs. Switzerland, 2:30 p.m. (ESPN)
Thursday, June 17
Group C – Netherlands vs. Austria, 2:30 p.m. (ESPN)
Friday, June 18
Group D – England vs. Scotland, 2:30 p.m. (ESPN)
Saturday, June 19
Group F – Hungary vs. France, 8:30 a.m. (ESPN)
Group F – Portugal vs. Germany, 11:30 a.m. (ESPN, Univision, TUDN)
Group E – Spain vs. Poland, 2:30 a.m. (ABC)
Sunday, June 20
Group A – Switzerland vs. Turkey, 11:30 a.m. (ESPN)
Group A – Italy vs. Wales, 11:30 a.m. (ESPN2)
Tuesday, June 22
Group D – Croatia vs. Scotland, 2:30 p.m. (ESPN)
Group D – Czech Republic vs. England, 2:30 p.m. (ESPN2)
Wednesday, June 23
Group E – Slovakia vs. Spain, 11:30 a.m. (ESPN)
Group E – Sweden vs. Poland, 11:30 a.m. (ESPN2)
Group F – Portugal vs. France, 2:30 p.m. (ESPN, Univision, TUDN)
Group F – Germany vs. Hungary, 2:30 p.m. (ESPN2)
June 26 - TBD (Round of 16) - Tickets will be released on June 21
June 27 - TBD (Round of 16) - Tickets will be released on June 21
June 28 - TBD (Round of 16) - Tickets will be released on June 21
June 29 - TBD (Round of 16) - Tickets will be released on June 21
July 2 - TBD (Quarter Finals) - Tickets will be released on June 21
July 3 - TBD (Quarter Finals) - Tickets will be released on June 21
July 6 - TBD (Semi-Finals) - Tickets will be released on June 21
July 7 - TBD (Semi-Finals) - Tickets will be released on June 21
July 11 - TBD (Finals) -Tickets will be released on June 21
Organizer of UEFA Euro 2021