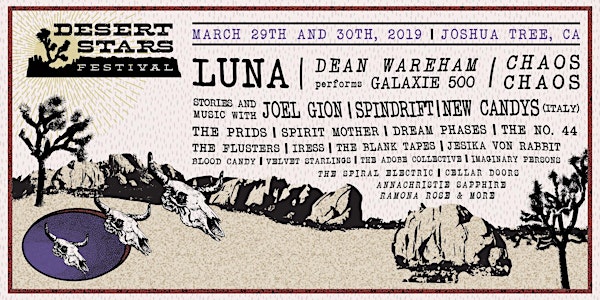 11th Annual Desert Stars w/ LUNA, Dean Wareham performing GALAXIE 500 & mor...
Location
Desert Stars Outdoor Theater
El Reposo Cir, 29 palms Highway
Joshua Tree, CA 92252
Description
THE HIGH DESERT'S PREMIER INDIE MUSIC FEST RETURNS !


11th Annual
DESERT STARS FESTIVAL
Joshua Tree, California
March 29th & March 30th, 2019

This year we have a rare treat for fans of GALAXIE 500 and LUNA!

On Friday night (March 29th) Dean Wareham will perform a very special GALAXIE 500 set as we kick off our debut at our new outdoor theater in Joshua Tree. The following evening (Saturday March 30th) LUNA will headline Desert Stars!

Where is Desert Stars?
Our new intimate outdoor theater is nestled in the heart of Joshua Tree (directly behind Zannedelions Boutique) and features two stages, a bar serving craft beer and wine as well as on site dining provided by Cafe Vin Du Monde. Our new venue is owned by our partners on the downtown block, Moss and Ginger, a boutique clothing store specializing in new and vintage wears. We have also partnered up with the wonderful folks at Zandelion's boutique & gallery to host our local vendor marketplace featuring over 2 dozen local artists! Arrive early as our vendor marketplace opens at 10AM. We encourage everyone to also support our neighboring downtown businesses such as Joshua Tree Coffee, Coyote Corner, Crossroads, Natural Sisters, The Art Queen, The Sun Alley Shops and The Station to name just a few! full details & pics of our new venue will be released shortly (we are prepping the site so it looks beautiful!). Please visit our website for updates at www.desertstarsfestival.com
​
How big is this event?
​
In keeping true to our micro festival ideology, our event moving forward will be even more intimate than before! We are capping the attendance this year to 400 people. Tickets will sell out so be sure to buy yours!
​
​
Where do I park?
​
We have arranged parking at the parking lot located directly behind the coyote corner gift shop at 6551 Park Blvd.
FRIDAY 3/29 - GATES OPEN AT 3PM
SATURDAY 3/30 - GATES OPEN AT 1PM
FULL SCHEDULE & DETAILS AVAILABLE AT:
WWW.DESERTSTARSFESTIVAL.COM
*No refunds or exchanges. Rain or Shine. Lineup subject to change without notice. © 2006-2019 Desert Stars Festival ® All rights reserved.