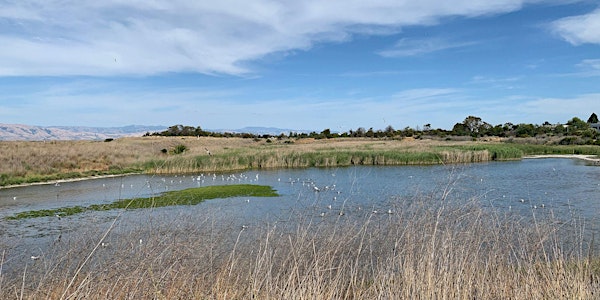 北大北加州校友会 月度爬山活动 01/22/2023
本次计划的路线是位于Palo Alto附近 的Adobe creek trail to shoreline lake park。兔年大年初一,让我们用最健康的方式庆祝新春伊始!
By Peking University Alumni Association of Northern California (PKUAANC)
Date and time
Sunday, January 22 · 10am - 1pm PST
Location
2375 Embarcadero Rd 2375 Embarcadero Road Palo Alto, CA 94303
About this event
各位校友新年好!
去年开始的月度爬山活动得到了校友们踊跃的参与。今年,校友会将继续组织这一活动。我们会在每个月的中下旬相继选取中半岛,东湾或者南湾附近难度适中又景色优美的路线,方便住在不同地方的校友都有机会参与。我们期待和大家在轻松的户外氛围中锻炼身体,交流畅谈。
本次计划的路线是位于Palo Alto附近 的Adobe creek trail to shoreline lake park。我们hiking的路线将从Palo Alto靠近旧金山湾的一处湿地附近出发,沿着湾岸南下直到Shoreline Lake Park,然后折返。沿途可以观赏旧金山海湾的美景,也将邂逅湾岸湿地的各种野花和鸟类。全程均为水泥或者鹅卵石铺就,整体较为平缓,整体属于中等难度的徒步道,适合徒步,慢跑和自行车。时长预计约两小时。兔年大年初一,让我们用最健康的方式庆祝新春伊始!
Trailhead 处有免费停车场和洗手间。一般周末人会比较多,建议大家尽量提早一点到达以方便寻找停车位。
活动时间定为1月22日(周日) 10:00 a.m. (可能根据天气进行调整, 如有调整,校友会届时将启事告知)。
集合地点:Google Map可搜索2375 Embarcadero Way, Palo Alto, CA 94303
集合点坐标: (37.4510365,-122.1061529)
校友会温馨提示:
1.可以带上: 水, 零食, 太阳帽, 防晒霜, 运动鞋
2.可以带狗,但是需要leash
公园提示:禁烟禁酒, 禁止採集花草树木及动物, 禁止喂食野生动物。
此次活动全程室外, 相对比较安全。校友会鼓励大家戴口罩并会准备全新的口罩以备不时之需。未完成疫苗接种的同学建议待接种后再参加集体活动。
本次爬山活动结束后,校友会不组织午餐活动, 但鼓励校友们组合聚餐,继续交流。
About the organizer
Peking University Alumni Association of Northern California (PKUAANC) is a non-profit organization ( IRS 501 (c)(3) ) dedicated to connecting Peking University alumni in Northern California. In the spirit of the treasured legacy of Peking University - Science and Democracy, PKUAANC organizes social, academic and business activities with the purpose of assisting the professional and personal growth of our alumni, promoting communication between people in America and China.

PKUAANC was officially founded in May 1992 with the efforts of many alumni. Over the years, PKUAANC has grown into an influential Chinese organizations in the Bay area, thanks to the endless efforts of many alumni and the past terms of PKUAANC officers. 
Our website is http://www.pkuaanc.org/