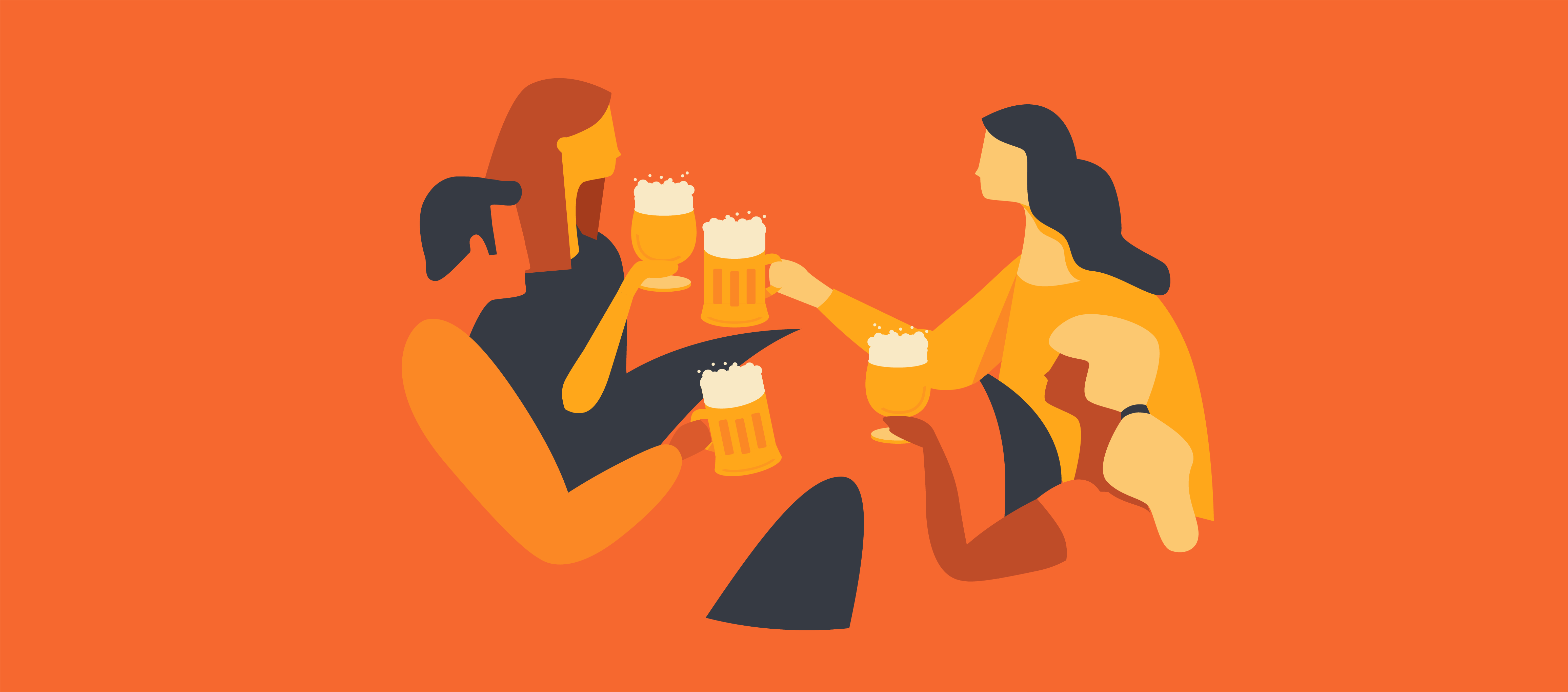 How to Supercharge Your Brewery Marketing With Events
Whether you're a craft brewer or a brewery owner, events are a vital part of your brewery marketing strategy. Events are simply one of the most powerful ways to build a brand in beer, and can be more effective than any other marketing method.
After attending a beer event, attendees are more likely to visit a brewery that participated in the event or buy their beer in the future. A 2014 Eventbrite survey of 5,000 food and drink festival attendees found that after a beer event, 99% of participants will recommend your brand to a friend. Not to mention, half will buy your beer on the spot, and 40% will sign up for your email newsletter.
But for your brewery marketing to be successful, it's more important than ever for your events to stand out. In 2017 alone, there are projected to be more than 600 beer festivals and countless additional beer events for consumers to choose from in the U.S. And for many consumers, beer events focused solely on drinking have lost their charm.
"Many geographic areas have become saturated with general beer tasting events," says Curt Foreman, the founder of Brew Fest Partners. "We have gravitated toward building niche events that target attendees looking for a unique experience."
If there isn't something different about your event, it doesn't matter how good your beer is.
Here are three strategies to break out of the typical beer event mold:
1. Get creative with your cuisine
Most beer events include food, but the pairings rarely surprise: Beer and French fries. Beer and burgers. Beer and chips. But running a profitable beer business relies on thinking more creatively.
An unexpected combo is the root of the Bacon & Beer Classic's success, which takes place in three cities across the U.S.
"For the price of a ticket, attendees can sample from 80+ regional craft beers, enjoy unlimited bacon snacks, and take part in original activities like a giant Jenga game and a bacon-eating contest. We knew that people love bacon and beer, and we wanted to capitalize on that opportunity," says Kate Levenstien, CEO of Cannonball Productions, the brand behind the event. And their unique food pairing has struck a chord: the Bacon & Beer Classic has seen 500% growth year-over-year.
Fort Point Brewing Company has also had success with events that challenge the typical food pairings for their brews. One of their most successful events during SF Beer Week was a Dim Sum Brunch. "That one was fun because people aren't expecting a dim sum and beer pairing," says Colleen Fredericks, who heads Partnerships and Community Engagement at Fort Point Beer Company. The event sold out in days.
There are also plenty of easier ways to up your food options at a beer event. Consider bringing in a food truck — or twenty — for gastronomic variety as well as hip factor. Or invite a big-name chef to attract more beer enthusiasts who are foodies, too.
2. Think outside the tap room
When most people think "beer event" they imagine a brewery tap room or festival grounds. But these predictable settings won't spark the interest of beer fans in today's saturated industry.
"An interesting venue is important for us," says Amy de Leon, managing partner of Brew Fest Events. Public gardens, urban warehouses, and local hot spots are all spaces that can add something special to your beer event.
Fort Point Beer Company has a small taproom that doesn't easily accommodate a crowd. Given this, the San Francisco brand hosts events at some imaginative locations: national parks, botanical gardens, and even a local dim sum restaurant.
"There aren't many breweries approaching events from this perspective, outside of the bar or restaurant," says Fredericks. And this new approach is paying off: their event at Fort Point Historic Site sold out in just two days; the waiting list was nearly a thousand people long.
3. Double down on entertainment
Of course, people want something to do while they sip on beer. Live music is an obvious solution. Amy de Leon of Brew Fest Events credits their musical acts as one element of their events' success. "We take great consideration in the music acts we hire to ensure they're talented and fun," de Leon says.
Who doesn't love live music? But the entertainment doesn't need to stop there.
Lagunitas Brewing Company hosts a Beer Circus every year in various locations across the U.S. The brand's fans gather to drink beer under the big top and enjoy "freaktacular" entertainment while raising money for local charities.
You can also get sponsors involved to provide auxiliary entertainment. "We've been trying to get non-alcohol businesses involved," says Rob Fullmer, executive director of the Arizona Craft Brewers Guild. "Beer doesn't have to be the source of all the fun. It seems counter-intuitive, since as the Brewers Guild we command the best and rarest beers of all the festival… but we really compete on fun and experience."
To win over hipster beer aficionados, you need to forge your own niche with unexpected elements — whether that's an eating competition, a game of sorts, or an educational component.
For more tips on how to differentiate your brewery in a saturated craft beer industry, check out Beer Industry Trends: How to Differentiate Your Brewery or Beer Fest.