| | |
| --- | --- |
| Cooking 101 Strategies Nutrition Etiquette and Frugal Stylish Recipes for Technolgoy Professionals and Graduate Students | |
Event Details

Outclass the Competition
by Harold Almon    
Be at Ease School Etiquette Austin
512-821-2699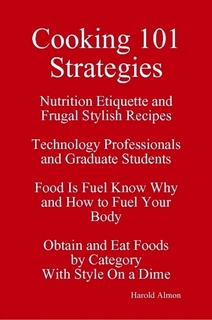 Cooking 101 Strategies Nutrition Etiquette
and Frugal Stylish Recipes for 
Technology Professionals and Graduate Students 
 
Tours and Etiquette Lessons    
                               *Sun                    12:00 PM - 2:00 PM   
                                Tue Fri or Sun     7:00 PM   - 9:00 PM       
Cooking 101 Strategies Nutrition Etiquette and Frugal Stylish Recipes Graduate Student Tour http://eventbrite.com. Tech Professional Student evening tours. Social and Business Hospitality Etiquette Graduate Semester Course includes five hours of five weeks of tours and lessons on Cooking 101 Strategies, Creative Correct Table Setting, Saying Thank You and Giving Back and Flawless Dining Service. Some groceries and suggested equipment included.
Obtain and Share Foods with Style on a Dime
Connoisseur Frugal Living Tours 
Welcome to a world where everything is presented to elevate your sense of sophistication, choice of food selection, and in consideration of your wallet.
Meal Plan Your My Plate (r). Make stylish and nutritious dishes. Discover fun ways to obtain and share foods on a dime. Let us begin.
RSVP day of event to confirm time and location
Info http://baesoe.com or call Harold Almon 
Save This Event
When & Where

Be at Ease School of Etiquette in Austin c/o
Brodie Lane and Ben White Boulevard
Austin TX
512 821-2699, TX 78704


Organizer
Harold Almon Director Career Services and Etiquette Coach E-Commerce Professionals & Graduate Students Be at Ease School of Etiquette in Austin Texas baesoe.com 512-821-2699
I, Harold Almon,

 provide  career services, resume writing services, job sales kit preparation, 
etiquette coaching, dining skills training: 
graduate business etiquette dinner, Austin food tours, Almon's etiquette lessons, and Almon's etiquette guides
that match manners to etiquette and lets technology 

professionals and graduate 

students acquire soft skills and social keys to advance more at ease and outclass the competition.
Austin TX · http://baesoe.com
Cooking 101 Strategies Nutrition Etiquette and Frugal Stylish Recipes for Technolgoy Professionals and Graduate Students