ART+TECH Rendezvous @GeekdomSF (Old: Thursdays)

Monthly Event - Fourth Thursday of every month: 6:00 PM to 10:00 PM (PDT)
Ticket Information
This event is invite-only
You need an invitation to register for this event. Contact the
host
to find out more.
Event Details
Art+Tech Rendezvous is CODAME's monthly series curated by CODAME staff, happening @GeekdomSF. The series focuses on contemporary art and tech artists, electro-music and performance, mixing and networking, electronic improvisation, artistic inspiration, and play time.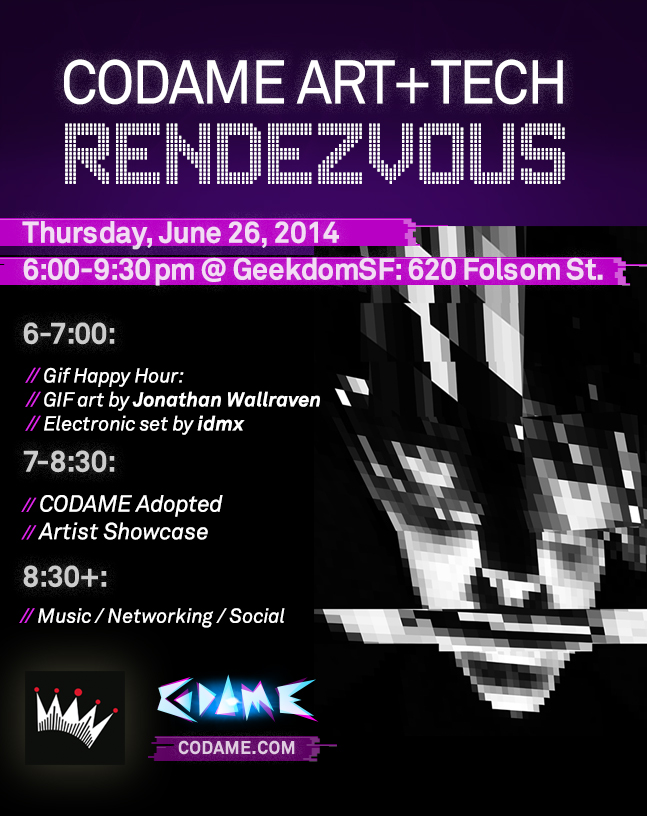 /// SCHEDULE
6-7:00: GIF Happy Hour

We'll kick off the evening featuring GIF art by Jonathan Wallraven and the Electronic performance by idmx, and an opportunity to play with gifSlap!

7-8:30: Art+Tech enlightening talks from CODAME Adopted Artists

Learn and meet the team behind three exceptional projects adopted by organizations supporting Art+Tech

8:30+

: 

Networking / Social / Music and more play time w/ 

Spectrum Electric

 DJ set
Limited quantity available, so reserve yours before they're gone! 
/// CONNECT
#CODAME • CODAME ART+TECH Facebook • @CODA_ME  
/// SATISFACTION GUARANTEE
We organize this group to promote art and the interesection of technology. If you purchase a ticket and aren't happy with the experience, can't make it, or decide that you don't want to support the CODAME for any reason, We are happy to refund your money. 
Please note that if you do need to cancel your reservation, we request that you do so at least 24 hours before the event so that the tickets can be shared with others who may be waiting.
Organizer
CODAME ART+TECH
 ART+TECH projects and nonprofit events, to inspire through experience. 
50+ 

projects

 built in collaboration with tech+artists around the globe

60+ 

events

 since 2009

200+ 

tech+artists

 featured

20k+ top-industry community of engineers, designers and artists
/// MISSION
Embracing innovation through creativity, play, and collaboration between artists and technologists. 
We build immersive, engaging, out of the ordinary experiences by:
Playing together with artists, coders, designers, game developers, creators, performers and musicians.

Celebrating creativity by curating magic-inspiring experiences that combine art with technology.

Inspiring entrepreneurs, innovators, startups and companies by injecting creativity into organizations.  
// SUPPORT ART+TECH
With the support of like-minded partners we plan to triple our numbers and bring the San Francisco innovative, independent, and creative spirit of CODAME around the world. Support us or just Get in touch
Based on a flexible model tailored to your unique organizational needs, the CODAME Program enables companies to collaborate with a diverse community of artists making and hacking in a range of media—from projection mapping, motion sensors and wearable technologies to robotics, data visualization and MIDI controllers.  
/// NON PROFIT
As members of Intersection for the Arts, a 501(c)(3) org. we are accepting tax deductible donations.
Select CODAME as the designated entity when making a donation. 
/// TEAM
Commodore (in-Chief) @BrunoFonzi
Amiga (Guru Meditation Handler): @staRpauSe
Atari (Artist Canvas) @Mexist
Spectrum (Ultimate Disco) @Irene86g 
Cray1 (TechArt Ninja) @KKoechley
Gravis Ultrasound (Media Munger) @AniMusicSF
JUNO-60 (Markup Master) @Gridwalk
Neon (Curation) NeonMenagerie
… and more than 100 amazing artists and volunteers…
ART+TECH Rendezvous @GeekdomSF (Old: Thursdays)