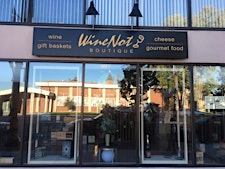 WineNot Boutique
WineNot Boutique, voted "The Best of the Best Wine Shop of NH" for 2011-2015 in the Hippo Reader's Poll, "Best Wine Selection in Greater Nashua" in 2015, 2016, 2017 and 2018 by The Nashua Telegraph,  "Best Wine Shop" in the 2016 Hippo Press Reader's Poll, and Best Wine Shop of NH 2017 and 2018 by NH Magazine, offers a wide range of wine and craft beer related products and services. From wine or beer selection to food pairing ideas, our highly trained and experienced staff is here to help. Our rewards program can help you save on your purchases.
We carry wines from the most popular wine regions as well as from unique and lesser known regions including wines from many hard to find varietals and boutique wineries. We carry many highly rated and collectible wines but we also carry many casual wines suitable for every day drinking. Since the key to finding the wines you love is to taste them, we offer two free wine tastings every week. Every Wednesday from 5-8pm and Saturday from 1-5pm we host free, casual wine tastings where we sample 5-10 wines paired with our artisan cheese, charcuterie, and specialty foods. At the Saturday tasting we also offer a craft beer tasting.
WineNot carries a wide variety of specialty food products including an extensive selection of artisan cheese, fine olive oils, balsamics, Italian pasta, chocolate, and more. We carry many wine related gifts and accessories and our custom wine gift baskets have won rave reviews.
For those who want to venture further, we offer many wine tasting special events and the wine classes at WineNot Boutique offer top-notch wine education for everyone from beginners to serious wine experts. Or, let us bring the wine to you with one of our wine parties at your home or business. Consider travelling with us on one of our annual wine and culinary tours.