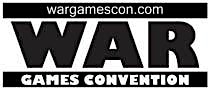 WAR Games Con
WAR Games Con, Central Texas' premiere miniature wargaming convention, started in 2008.  Since 2012 WAR Games Con has been held on the massive convention floor at the Austin Renaissance Hotel which featured space for a huge vendor area and triple the space of the previous venue.
Brought to you by BellOfLostSouls, WAR Games Con features events for Warhammer 40K, Warhammer Fantasy, Warmachine, Hordes, Flames of War, Legend of 5 Rings and more.  WAR Games Con ground-breaking events, the 40K Mirror Match and 40K Narrative, return each year to provide a unique tournament experience.
Find out the latest on this year's WAR Games Con at our blog and on the BoLS Lounge.
Sorry, there are no upcoming events