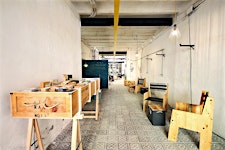 TransfoLAB BCN
TransfoLAB BCN es un centro dedicado a los profesionales creativos de Barcelona centrado en el diseño, la innovación, la producción y la experimentación con los residuos, la economía circular y la sostenibilidad medioambiental. Básicamente, ofrecemos el espacio y el apoyo a makers, diseñadores, arquitectos, artistas, DIY aficionados y entusiastas creativos que buscan un entorno para desarrollar y diseñar sus ideas o proyectos. Ofrecemos soporte durante todo el ciclo de vida de sus proyectos, desde la concepción, planificación, creación de prototipos, producción y promoción. Estamos ubicados en el distrito más innovador el 22@ en el barrio Poblenou, a pocos pasos de la línea L4 del metro y algunos bloques de la playa. Si estas visitando y necesitas un lugar para trabajar, ven a visitarnos.
---------------------------------------------------------------------------------------------------------
TransfoLAB BCN is a centre dedicated to the creative professionals in Barcelona focused on design, innovation, production and experimentation with waste, circular economy and environmental sustainability. Basically we offer the space and support to makers, designers, architects, artists, DIY hobbyists and creative enthusiasts looking for an environment to develop and design their ideas or projects. We offer support throughout the whole life cycle of the projects, including conception, planning, prototyping, production and promotion. We are situated in the most innovative district in town 22@ in the center of Poblenou, just a few steps away from the L4 metro line and several blocks away from the beach. So if you are in town and looking for a place to work, come and visit us.