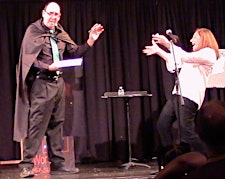 Robert Malissa - "A Case for Magic"
Award-winning magician Robert Malissa puts the art of the trick on trial.  He will lie, cheat and smile as he presents sleight of hand, mentalism,and sneaky swindles while making a case for the craft of deception.  A fair and balanced examination of the art for lovers of magic and their ambivalent friends.  "A solidly joyful evening of theater" Theasy.com NYC ---"A night full of light-hearted fun, gasps, and wonder" The Paper NYC
Robert Malissa has won the Philadelphia Houdini Award, and awards for stage and close-up magic from the Society of American Magicians.
Read full reviews at www.thisguyisamazing.com
Sorry, there are no upcoming events