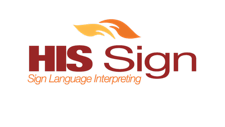 HIS Sign, LLC
HIS Sign, LLC is your best resource for American Sign Language interpreting services in the Virginia, Maryland, West Virginia and Washington, D.C. areas.
We're committed to providing valuable interpreting services to the Deaf community, the business community, and the interpreting community and we do this with a high level of integrity, dedication, and ethical standards. We provide around-the-clock (24x7) interpreting services to schools (K-12 to post-secondary), private businesses, outpatient medical facilities, government agencies, hospitals, and much more.
HIS Sign also offers Video Remote Interpreting (VRI) services, a convenient alternative to our customers seeking last-minute interpreting needs or ongoing needs where an onsite interpreter is not required.
Sorry, there are no upcoming events