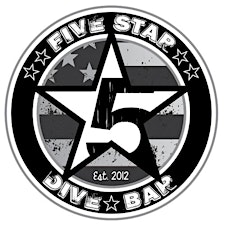 Five Star Dive Bar
Click here to subscribe to our text messages.
Located in the historic State Theater building in downtown Elkhart, Indiana, Five Star Dive Bar is a full service restaurant open at 11am 7 days a week.
Our facility has table seating for 165 people and carry a full lumch and dinner menu for all ages.
We host regular nightly entertainment 5 days a week. Most of which is free or a $5 cover charge on Fridays and Saturdays. We restrict entrance to 21 and over after 9pm.
We regularly host Special Events from Nashville touring country acts to national comedians and celebrities from TV and radio. These events are listed here :-)