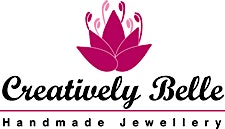 Creatively Belle
Creatively Belle is the creative jewellery expression of Sydney based designer and entrepreneur, Belinda Stinson.
Belinda Stinson has a passion for small business and loves the freedom running her own two businesses - Creatively Belle and She Inspires - gives her.
Creatively Belle jewellery designs are all about beauty, creativity and light. Pieces are made from handcrafted glass, freshwater pearls and gemstones and are full of colour. It's important to Belinda that her designs are easy to wear, gather compliments and are affordable for everyday life as well as celebrating special moments.
SheInspires.com.au is an online women's magazine all about inspiring women and men to live the life they want to have through positive and empowering stories on fashion, design, business, health, beauty and life.
Telling the stories of women making a success of their small businesses on Facebook is a revealing and informative series that's inspired the Social Media for Small Business Event series and the Pop Up Project environment that is housing Creatively Belle's first shop is offering the ideal space to host the events.
Want to know more about the upcoming small business focused events coming up? Visit Creatively Belle Events online!
Sorry, there are no upcoming events