Finding Keywords That Will Boost Your Event's SEO
SEO (or search engine optimization) matters for events. Why? Consider this: research shows that 89% of attendees use search when deciding to buy a ticket or register for an event, and there are nearly 10,000 searches a month for "conference" alone.
Taking the time to optimize your event website or listing for search engines is a surefire way to reach more people and increase the attendance at your event. But since reaching the top of search engine results is a lot like trying to find a light switch in the dark, it's easy to find SEO bewildering and frustrating.
It doesn't have to be, though. According to Britney Muller, SEO & Content Architect at Moz — an industry-leading SEO software company — SEO success requires a change in perspective.
"Despite the emphasis on 'search engine,' SEO is about people," says Muller. "Ultimately, SEO is about fulfilling the intent of someone searching. What are people asking? What are people looking for? It's about how can you provide those answers."
Luckily, you don't have to be a mind reader to determine a searcher's intent. Understanding what words and phrases your attendees are using to search for an event like yours can be done through keyword research. Keywords are the foundation of SEO. They're the words someone types into the search box on Google, Bing, and other search engines when they're looking for something.
In a recent webinar about SEO for events, Britney gave the audience a step-by-step guide to finding the right keywords. In this tutorial, we'll look at how a digital marketing conference in Seattle would create a keyword list using the Keyword Planner tool.
Before you get started, you'll need to get set up with Google Keyword Planner. [More info on how to do that here] You'll need a Google account to access Google Adwords and Keyword Planner.
Step 1. To access the tool, head to Google Adwords and select Keyword Planner from the "Tools" dropdown menu. Select "Search for new keywords using phrase, website, or category" on the next screen.

Step 2. Start by adding a few words and phrases that describe your event into the text box under "Your product or service." For this event, we'll start with three keyword prompts: "marketing events", "digital marketing events", and "seattle marketing events".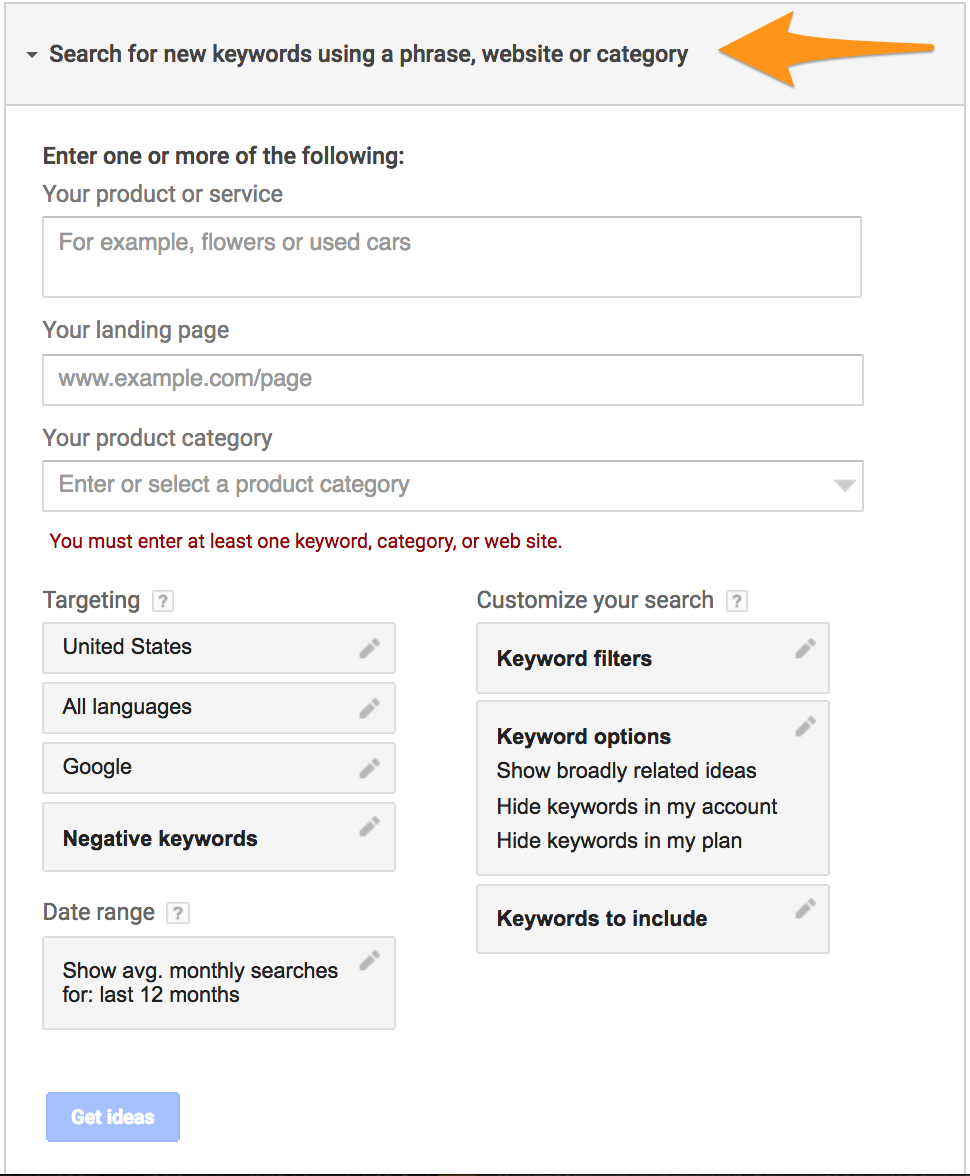 Step 3. Once you've added a few starter keywords, you'll want to change the target location to the city or region of your event. Since this event takes place in the Seattle-Tacoma region, we'll filter the data by searches confined to this location.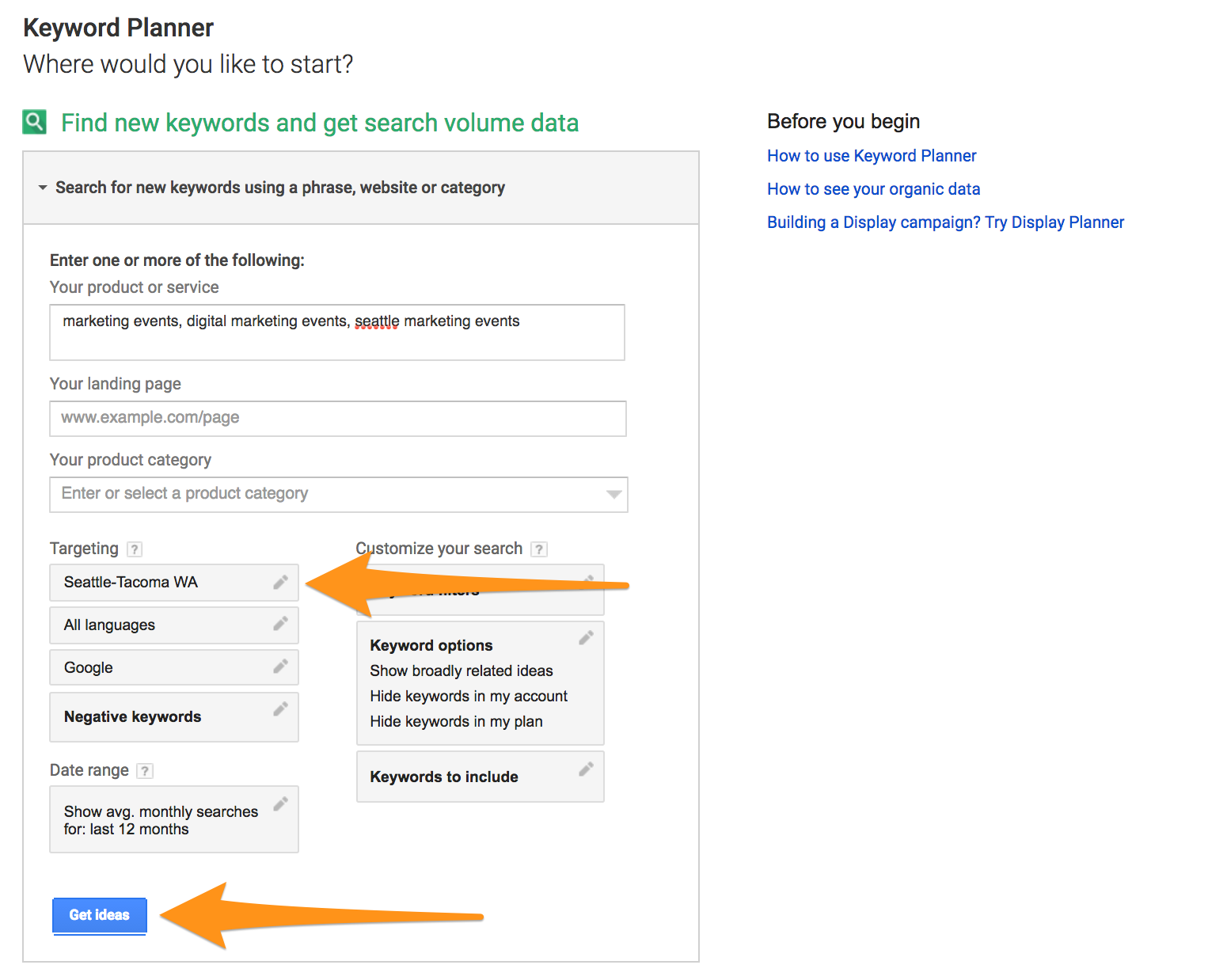 Step 4. Once you hit "Get Ideas," you'll be given a list of keyword suggestions based off your starter keywords. Click on the "Avg. monthly searches" column to sort it by greatest search volume to least.
At the bottom of the table, you can increase the amount of rows to 100 to show more results on the page.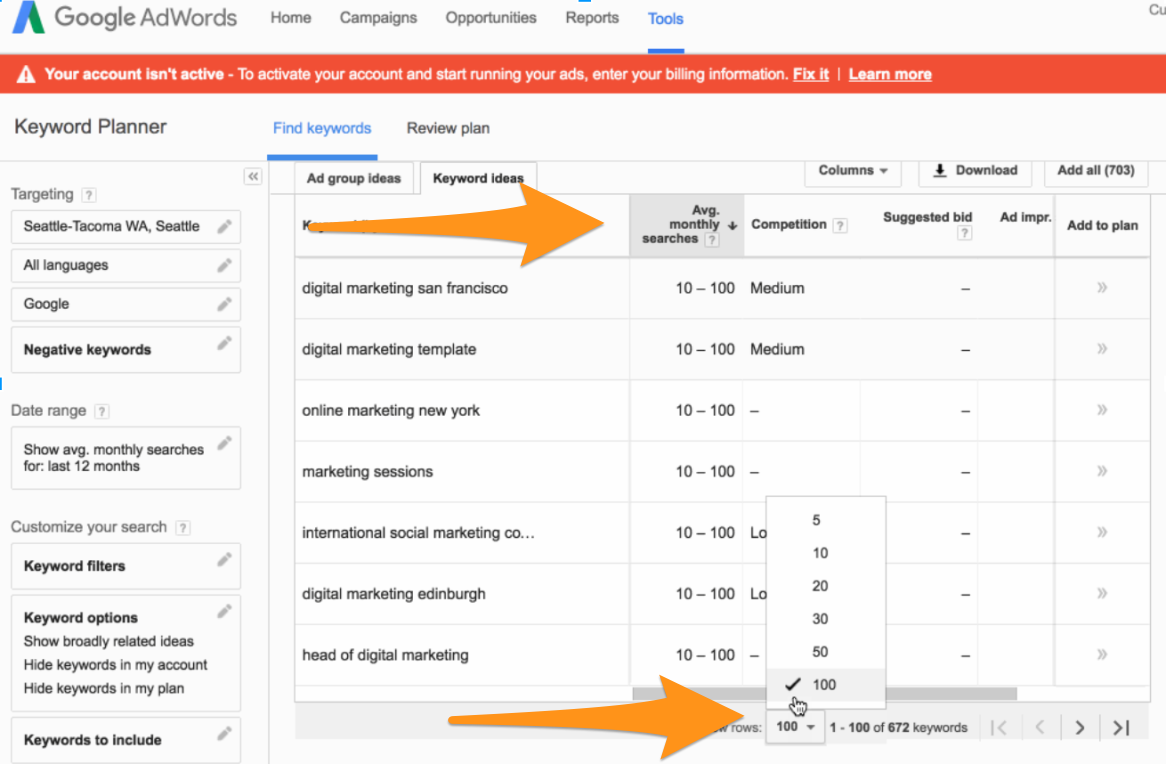 Step 5. Starting from the top, go through each keyword idea and consider its relevance to your event. Select the arrows in the "Add to plan" column when you find relevant suggestions. For the conference in Seattle, "best digital conferences in Seattle" is a great example of the type of keyword you'd want to target.

Step 6. After you've added all the relevant keywords to your plan, you'll download your keyword plan. Once you click the download icon, a dialog box will appear with additional options to configure your data.
For this example, we'll be selecting the option to save the data into Google Drive, but you can also choose to download a CSV file that will open in Microsoft Excel. Hit the "Download" button and select "Open file" when the next dialog box appears.

Step 7. When you first open the keyword plan, it'll look messy and confusing — but don't worry! You can easily clean up this data by deleting columns you won't need. For the purposes of SEO, you'll only need to worry about the "Keyword" and "Avg. Monthly Volume" columns. Feel free to delete the rest.

Step 8. The keywords you have in this list should be used in the event description, page title, image alt tags, and more. Our example below, Google saw keywords like "digital marketing conference" and "Seattle" in the event's title tag and consider it relevant to the searcher's intent. For details on how to apply your keywords on your event website or listing, check out this blog post.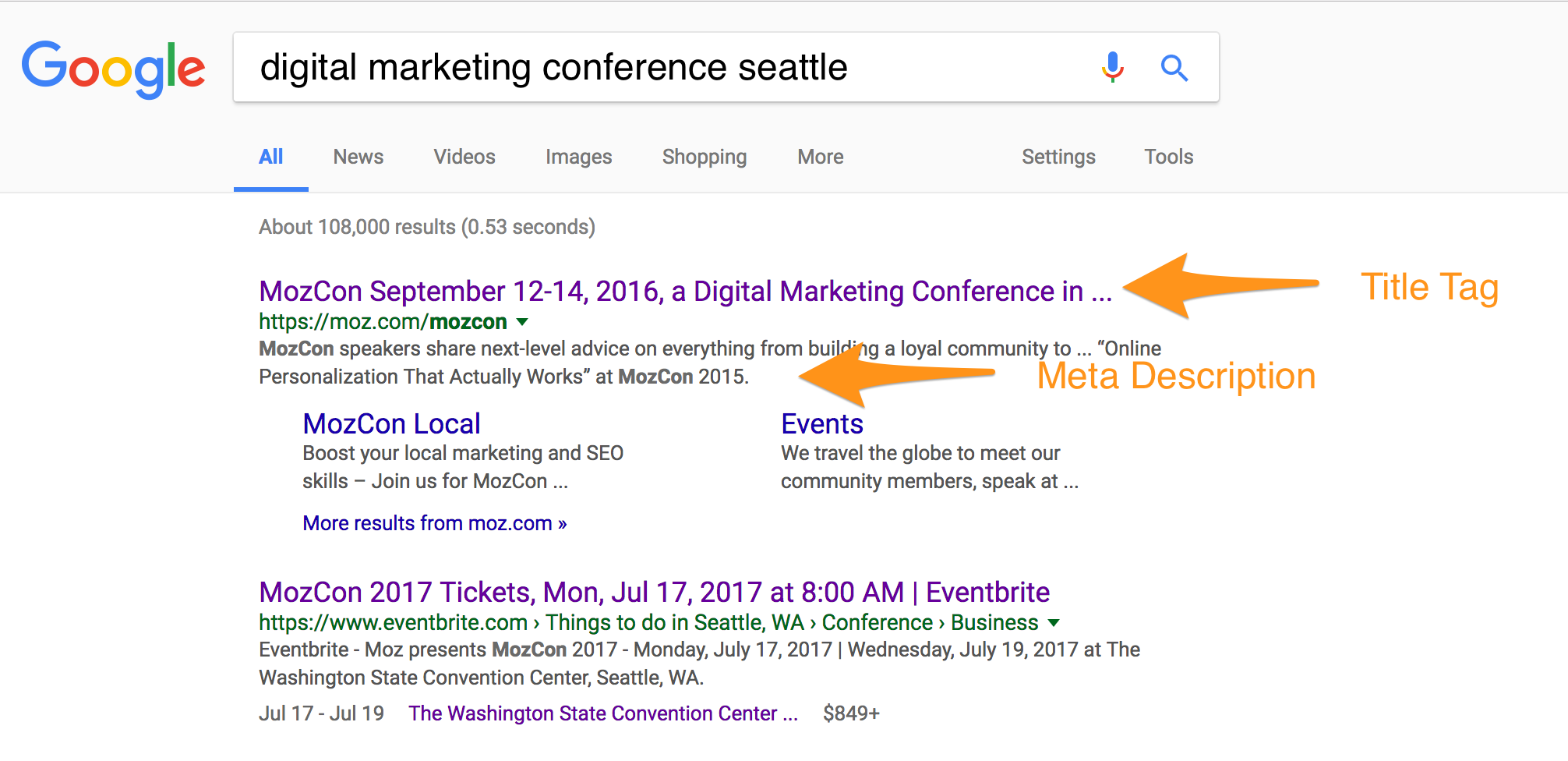 For more advice on optimizing your event website or listing for search, check out the full on-demand webinar with Britney Muller and the CEO of Pathable, Jordan Schwartz.