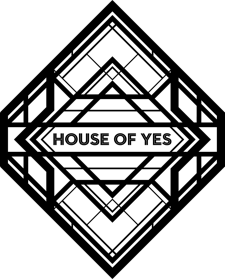 House of Yes!
::::::: SAFER SPACES POLICY :::::::

House of Yes is a space for everyone to feel welcome. We have a zero tolerance policy for harassment, unwanted touch, and discriminatory behavior. Always ASK before touching anyone at our events. If someone is making you uncomfortable or harassing you, please come speak to a security guard or ask for a manager. We will believe you, and we will help. All restrooms in our venue are gender neutral. Everyone is free to use the restroom that best fits their gender identity or expression. All entrances and spaces within the venue are single-level. There are stairs leading to the upper portions of the stage, for those who wish to dance in the spotlight. Strobe lights are used during performances and parties. Questions about our consent policy or procedures? Email consent@houseofyes.org.
::::: REFUNDS :::::
Refunds will not be issued unless cancellation occurred on behalf of the event organizer. For extenuating circumstances please contact tickets@houseofyes.org
::::: TICKETING POLICY :::::
All events are 21+ with valid ID. We only guarantee the validity of your ticket if purchased directly from Eventbrite or Resident Advisor. Any tickets purchased second-hand or via third party vendors cannot be validated or accommodated in the event of an issue (fake or duplicate tickets). Reselling a ticket above face value goes against the spirit of the event - Don't do it!