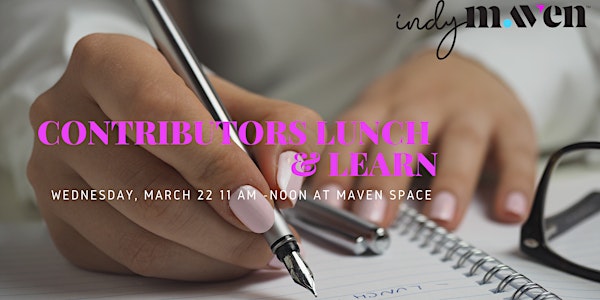 Indy Maven Contributors Lunch & Learn
Want to write for Indy Maven and have your work seen by thousands of people in Central Indiana? Learn more at our lunch + learn on March 22.
Date and time
Wednesday, March 22 · 11am - 12pm EDT
Location
Maven Space 433 N. Capitol Ave. Ste. 100 Indianapolis, IN 46204
About this event
Want to write for Indy Maven? Or perhaps you've written for us in the past and are ready to do more? Join us for our first-ever contributors lunch + learn. Hosted by Indy Maven co-founder Leslie Bailey and Assistant Editor Maura Malloy, we'll share updates about editorial planning, best practices, the best ways to pitch a story, and more!
This is a free event, and you are welcome to bring your lunch, although we encourage you to consider the Maven Cafe by Fork & Function! See the full menu and order ahead here. (The chicken salad is DELICIOUS.)
If you plan to preorder your lunch, please arrive by 10:45 to allow time to pick it up and get settled in. If you do not preorder, please arrive no later than 10:30 to place and receive your order.
The Contributors Lunch & Learn will not be available via live stream, however, a video recording will be available following the event as well has handouts and additional resources and sent via email to those registered.
In addition, we're excited to announce that following the Lunch & Learn, our partners at PNC are hosting a watch party of a webinar titled "You are More Than Your Title" featuring humanitarian and real-life princess of Sierra Leone, Sarah Culberson. Hear Princess Sarah's inspiring story, from being adopted to discovering her royal heritage, and learn about the importance of building community, embracing inclusion - and overcoming your fears to live your dreams. RSVP here (a light lunch will be provided at this event).
About Indy Maven
Indy Maven creates content and community for women in Central Indiana through thoughtful storytelling, a free award-winning weekly newsletter, awesome curated events, a fabulous membership program, and more.
Join 5,000 subscribers and sign up for the Indy Maven newsletter today.
About the organizer
Indy Maven is a media company dedicated to uplifting women's voices through content, community, and curated events.
There's a gap. We will fill it.
Our vision is to serve as the most trusted source for the best local connections, causes, events, people, and places with a fun, informative voice that speaks to the modern Indianapolis woman.
We're creating a community for like-minded women.
Our mission is simple. We're here to foster a spirited community that compels its members to explore their city, enjoy a robust lifestyle filled with fine food, drink, fashion and wellness, all while lifting up their voices, connecting and learning about strong female leaders making a difference in their daily lives.
We are strong, smart and compassionate.
We can care equally about fashion and families. About business and health. About our professional lives, and our private pursuits. We can want to be both unabashedly successful, and unendingly charitable. We are deep, rich, connected human beings who refuse to be narrowly defined by one voice, one narrative or one label.
These are our core values. They are the driving force about how we create, build, and share our stories on the Indy Maven team.
It's about more than making money. It's about...
- Lifting up and valuing women
- Appreciating the influence that women have in their households as decision-makers, influencers, and consumers
- Serving our diverse community with compassion and the utmost care at all times
- Treating philanthropy as a natural extension of the way you do business