Description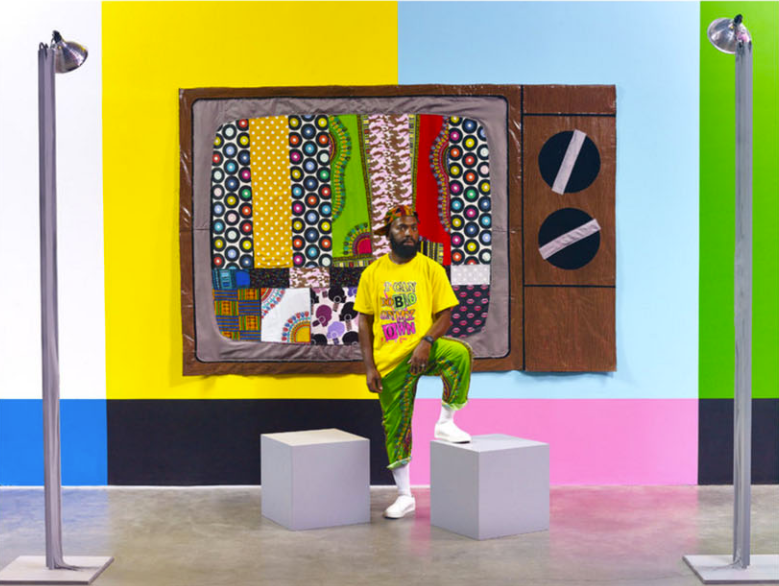 In the Artist's Studio with Derrick Adams
Friday, April 20, 2018
6 p.m. Reception | 7:30 p.m. Program
About the Event
In the Artist's Studio is a visiting artist program produced by the Downtown Arts District that celebrates the diversity of art in its many forms. The program is designed to engage, inform, enlighten and entertain Orlando's community. Adams joins past participants including Life Magazine Photographer, Douglas Kirkland; Ripley's Believe it or Not Mosaic artist, Doug Powell; Painter and Sculptor, Aithan Shapira; actress and activist, Morgan Fairchild; and Project Runway All Star fashion designer, Merline Labissière. The program will be moderated by television and radio personality, Marc McEwen, who is best known for his role on CBS This Morning and as an anchor for WKMG-TV, Local 6 News.
Student Admission - $25 (Please email hhogan@dadorlando.com for the student discount code)
General Admission - $50
Ticket Block for (10) with reserved seating- $500
All ticket tiers include hors d'oeuvres and two complimentary drinks
This project is made possible by a grant from Duke Energy through United Arts of Central Florida.
Thank you to our sponsors: City of Orlando, Downtown Development Board, State of Florida Division of Cultural Affairs, Orange County Arts & Cultural Affairs, Remixed, Duke Energy, United Arts of Central Florida, Bloomingdale's, Donna Dowless, Orchid Medical, El Jimador, The MEZZ, Grand Bohemian Hotel, Onyx Magazine, PNC Bank
About the Artist
Derrick Adams is a multidisciplinary New York-based artist working in performance, video, sound and 2D and 3D realms. His practice focuses on the fragmentation and manipulation of structure and surface, exploring self-image and forward projection. A recipient of a 2009 Louis Comfort Tiffany Award and 2014 S.J. Weiler Award, Adams received his MFA from Columbia University, BFA from Pratt Institute, and is a Skowhegan and Marie Walsh Sharpe alum. Adams' exhibit, "Black White and Brown" was featured during Art Basel at Primary, a gallery in the Miami Design District. His work was also featured at SCOPE Miami and Prospect in New Orleans.
NY Times: https://www.nytimes.com/2018/01/19/arts/design/how-an-artist-learned-about-freedom-from-the-negro-motorist-green-book.html
Interview Magazine: https://www.interviewmagazine.com/art/artist-derrick-adams-sanctuary-interview
W Magazine: https://www.wmagazine.com/story/prospect-new-orleans-triennial-highlights-derrick-adams-odili-donald-odita-beyonce
In the Artist's Studio/Star Gallery Dedication – Third Thursday, April 19 | 7:30P
Join the Downtown Arts District and special guest Derrick Adams for the launch of a new concept in the Star Gallery at City Arts Factory. On Third Thursday, April 19 at 7:30PM, DAD will dedicate a space to emerging artists of diverse backgrounds and community engagement. Derrick Adams has been invited to attend and officially launch the dedication as a kick off to our ITAS event.
Organizer of In the Artist's Studio with Derrick Adams
The Downtown Orlando Arts District (established in 2000) is a dedicated nonprofit organization for advancing arts and economic development in the City of Orlando. Through visibility campaigns and local outreach, the Arts District aims to lead, stimulate, and grow the development of a vibrant, innovative arts and cultural district in Downtown.
The Arts District is the producer of a series of mission-based events to heighten visibility for the arts including the monthly 3rd Thursday Gallery Hop & Art Walk, In The Artist's Studio, La Maschera, an annual themed arts celebration, and the award-winning network, OrlandoSlice.com.  In addition, the Arts District is the parent company to CityArts Factory – Downtown's collective of community art galleries, a photography studio, café, and SAK comedy Lab. For more information, visit www.orlandoslice.com.