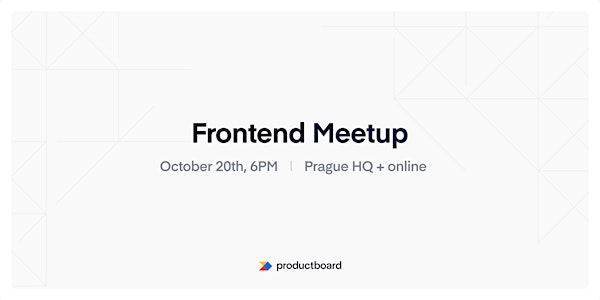 Frontend Meetup PRG #2
Productboard Meetups are back! And they will be better than ever!
When and where
Location
Productboard 2506/3 Boudníkova 180 00 Praha 8 Czechia
About this event
During the pandemic, we moved into new offices, which have already been named Best Startup Office of the Year. We are excited to show you our new event space (in person) as we host another Frontend meetup! 🚀
---
The talks will be live-streamed, and the recordings will be available online afterward — so if you can't attend in person, you can tune in or catch up later.
---
We'll be talking Frontend and have put together an awesome program for you:
Talk 1) Spinners versus skeletons in the battle of hasting
Speaker: Martin Nuc, Frontend Engineering at Productboard
Description: As apps grow, data fetching gets more and more complex. Our frontend developer Martin Nuc takes a closer look at spinners and skeletons in his talk, where he examines how to identify intermediate states while loading using React Suspense. Learn which method is best when you're faced with slow load.
Talk 2) Yarn 2, Yarn 3, PNP, and our migration journey
Speaker: Jakub Zitny, Software Engineer at Deepnote
Description: We decreased Yarn install time in our monorepo from 3 minutes to 20 seconds by upgrading v1 to v2. This was shortly after the v2 release, and the ecosystem was definitely not ready. It took us 2 weeks instead of 2 days, but it was very well worth it. Now Yarn v3 is out, and the migration is much simpler. Or is it? What problems did we encounter on the way, and how did we solve them? How does Yarn PNP work, and why is it so fast? Let's discuss our journey.
Schedule
6pm — Doors open
6:30pm — Talk 1: Spinners versus skeletons in the battle of hasting - Martin Nuc
7pm — Talk 2: Yarn 2, Yarn 3, PNP, and our migration journey - Jakub Zitny
7:30pm — Frontend quiz
7:40-10pm — Networking
---
Doors open at 6pm, and we'll be kicking the meetup off promptly at 6:30pm, so don't be — too late!
---
In addition to great talks and people, you can also look forward to tasty food, lemonade, prosecco and beer on tap from Dva Kohouti. You can also win some cool Productboard swag in our Frontend quiz!
We are really looking forward to seeing you! 🙌
---
We look forward to meeting so many great people together. However, safety is a priority! To attend, you'll need a negative Covid test that's no older than three days, or just show up — we'll be providing free tests at the door. If you have been fully vaccinated for at least 14 days, then you don't need one. And if you can prove that you've had Covid in the last 180 days, that works, too.
---
By taking part in this event, you grant the event organizers full rights to the use of images resulting from the photography/video filming, and any reproductions or adaptations of the images for fundraising, publicity or other purposes. This might include (but is not limited to): the right to use them in printed and online publicity, social media and press releases.
If you do not wish to be photographed, please inform an event organizer during check-in.