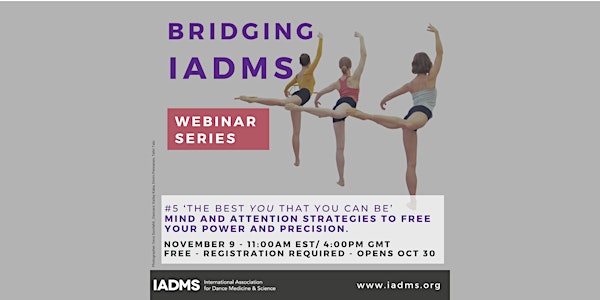 Bridging IADMS: Webinar #5 - Discover the best 'you' that you can be
Discover the best 'you' that you can be – mind and attention strategies to free your power and precision. Professional Dancers & Trainers
About this event
TUESDAY 9th November - 11am ET / 4pm GMT / 5pm CET / 6pm Helsinki
Join us for the 5th webinar in the open access, educational series 'Bridging IADMS' led by attention and focus in dance specialist, Clare Guss-West MA. This webinar for professional dancers is kindly hosted by Finnish National Ballet and we are joined by artistic director, Madeleine Onne, colleagues Jani Talo, Johanna Osmala, and Laura Nuutinen, and company dancers.
We all want to do and be our best, but often our best efforts do not lead us to optimal dancing. Frequently, more effort, more practice, more information lead to a movement plateau or worse a movement dysfunction. 'More is simply not more'! So how much is 'optimal'?
In the webinar, we'll explore complementary attentional tools and mental tips that can offer a renewed ease and economy of movement and energy to enhance your physical performance. We'll look at the effects of our own disabling self-talk and self-cueing, on our performance. And practice simple techniques to filter and channel our attention to support increased power, precision, and speed. Finding the optimal balance of minimal effort for maximum output and stamina.
www.attentionfocusindance.com