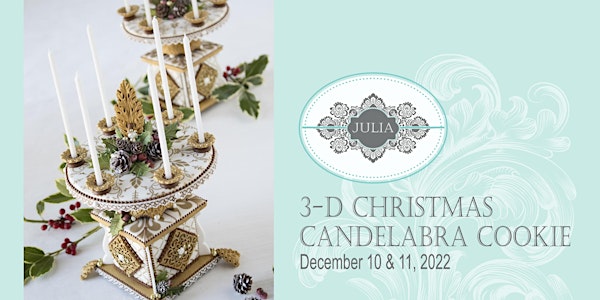 3-D Christmas Candelabra Cookie Decorating Class with Julia M. Usher
Light up your holidays with this extraordinary 3-D cookie that doubles as party décor! Follow along with Julia as she shows you every step.
About this event
1 day 5 hours

Mobile eTicket
Class time, each day:
Roll Call: 10:45 am CT (Please be prompt)
Class: 11:00 am to 4:30 pm CT (5:30 pm for VIPs); 30-minute break included
Class may go longer depending on students' work pace. Julia will remain online at least through 6 pm CT each day to ensure that everyone is happy with their results!
Details:
Light up your holiday season, both literally and figuratively, with this extraordinary 3-D cookie project that doubles as party décor! Follow along with Julia in this special live Zoom class as she shows you every step to make her popular 3-D Christmas candelabra cookie, from cookie dough formulation and shaping to final decorating and assembly. Julia's signature no-secrets teaching approach means that she shares every tip and technique needed to ensure that everyone, regardless of skill level, leaves class with glorious results.
This two-part cookie decorating class spans both Saturday and Sunday, December 10 and 11, and lasts five hours each day for a grand total of ten hours of unforgettable instruction! Can't make class at this time? No worries; the class will be recorded, and all students get forever-access to those video recordings.
In this hands-on class, you will make a slightly smaller, but equally showstopping, version of the candelabra cookie depicted here. On Day #1, in a bake-along, you'll learn how to emboss, mold, and contour cookie dough to make textured dimensional elements for the project. You'll also airbrush and stencil parts iced in advance, and prep contoured royal icing holly leaves and pine cones that look just like the real thing. That evening once off Zoom and on your own, you'll replenish icings as needed, and then get recharged for Day #2 when the pine cones will be finished and the candelabra will be assembled with rubber-stamped fondant trims, royal icing transfers, and more.
Upon class sign-up, you'll get a 20% discount code to apply to airbrush systems, Stencil Genies (stencil frames), and other products on creativecookier.com; another 15%-off code for all stencils and cutters on confectioncouturestencils.com, Julia's product partner's site; and yet another 15% discount on SugarVeil products. These awesome discounts start the moment you register and stay available until later in December or longer. So if you forgot to get something for class, or decide afterward that you need more of a good thing, you can take advantage of the codes even after class.
And that's not all! Julia has six awesome in-class giveaways planned, and, as noted earlier, the course will be recorded so you can access it long after the live event is over. VIP registrants will get an extra hour-long breakout session with Julia at the end of each class day where they'll make edible candles for the candelabra. In addition, VIPs will receive a FREE one-hour private video session with Julia to be redeemed after class!
Don't delay in signing up! Class size is limited so Julia can give everyone her utmost attention!
Skill Level/Prerequisites:
All levels; the more students, the merrier! Julia will tailor her pace and instruction so that even beginning decorators can follow along. No 3-D cookie experience is necessary, though experience and comfort with royal icing and airbrushing will be quite helpful.
What you'll learn (~14+ techniques):
Formulating dough for 3-D baking
Contoured cookies (domes and shallow cups)
Embossed cookies (and embossed/contoured franken-cookies; that is, cookies altered with reductive or additive methods)
Molded cookies
Dipping contoured cookies
Stenciling with an airbrush
Spraying and sponging textured cookies
2-D and contoured royal icing transfers
3-D royal icing pine cones
Rubber-stamped fondant trim
Piping on contoured cookies (with royal icing consistencies for perfect lines and beadwork)
Shading with an airbrush
3-D assembly techniques (both with and without internal supports)
Extruded fondant candles with bonus decorations (VIPs ONLY)
What all students get:
As soon as payment is confirmed: An email from Julia via Eventbrite with a link to her "online event page" and Google Drive, where you'll find:
List of dough, cookies, and icings you'll need to prep in advance, with links to recipes (Just some cookie dough, two iced cookies, one to two un-iced cookies, and three to four icing colors are required in advance)
List of supplies with coupon codes for discounted purchasing from creativecookier.com, confectioncouturestencils.com, and sugarveil.com (Order any supplies from these sites as soon as possible, ideally by early to mid November, to allow time to receive them before class)
Holly leaf templates
Class handout with daily outlines, inspiration images, and extensive technique tips
Instructions for using Zoom
Fun virtual Zoom backgrounds to use during class!
Zoom links (to access class on each day)
Again, be on the lookout for this email; it will come immediately after you register in your registration confirmation email from Eventbrite. Important: All written materials and photos are copyrighted by Julia M. Usher. Access to and use of them and all other class links are restricted to paid registrants only.
During class:
Lots of learning (14+ techniques) and excitement!
Chance to win one of six giveaways (total value $350)
After class:
Access to class video recordings
An official graduation certificate!
Coupon code for 10% discount on one-hour private video session with Julia (on her Superpeer platform!), coupon to be applied prior to February 28, 2023
Added VIP perks:
For an additional $50, VIP registrants will get:
Additional 1-hour class each day focused on making edible candles for the candelabra
FREE one-hour private video session with Julia (on her Superpeer platform!), coupon to be applied prior to February 28, 2023 ($100 value)
What you'll need to have/prep for this class:
Important: For the entirety of supplies needed, as well as all cookie quantities and dimensions, icing colors, and airbrush colorings, please carefully review the "online event page" that you'll receive after registering for class. (Again, a link to this page will come in your registration confirmation email from Eventbrite, and it will link to class notes, prep and supply lists, and more.) Most items are ones you will already have (if you're an established cookie decorator) or can easily find, with the possible exception of:
Laptop, tablet, or cell phone with strong internet connection, for accessing Zoom
Oven access, also during class
Silicone hemisphere molds (for shaping contoured cookies) and assorted other molds and/or texture mats (for embossing/molding smaller cookies)
Various iced and un-iced cookies used for the projects (only three to four cookies made in advance; nearly all of the contoured and small textured pieces will be made together in class)
Assorted royal icing colors and consistencies (three to four colors)
Airbrush system (available at 20% discount on creativecookier.com)
Assorted airbrush colorings (primarily bronze, plus green, maroon, brown, and black for shading)
PME gold and pearl luster sprays (or gold/pearl luster dusts and grain alcohol/vodka)
Stencils of choice (for decorating the large top plateau and the base)
White fondant and trim rubber stamp
Fondant extruder (VIPs ONLY)
Pricing:
Use the coupon code CYBERMONDAY15 to get 15% off regular class prices (below) until November 29 or until early bird seats run out, whichever comes first. IMPORTANT: Enter the coupon code on the Eventbrite page where you select your desired registration type; there is a small blue "enter promo code" link at the top of that page. Do not advance to the payment page until you've applied the coupon code and see the discount reflected in the class price.
General Admission: $150
VIP Admission: $200
Again, supplies are not included, but as noted above, discounts will be available on airbrush systems, airbrushing tools, stencils, cookie cutters, and texture mats. Students also have the chance to win one of six in-class giveaways, valued at $350 in total!
Cancellation/transfer policy:
Due to limited class capacity and the online nature of this course, no refunds will be given if you can't attend class. (Remember: Both class days will be recorded, and all registered students will get access to those recordings.) Registration can be transferred, but you must notify Julia first (at least 48 hours prior to class) and provide her with the name and contact information (email and phone) of the person to whom you're transferring. She will then relay all class materials and links to that person. Important: Again, all class materials and links are restricted to paid registrants only. If Julia should need to cancel for some unforeseen reason, refunds will be issued to those who cannot attend the rescheduled class.
Sponsor shout-out:
HUGE thanks to Creative Cookier and Julia's product partner Confection Couture Stencils for the discounts on airbrushing and stenciling products, and to SugarVeil for discounts on their silicone mats and other products.
Sample project photos:
Due to the relatively limited class time, students will be making a slightly scaled-down version of the project shown below with the two hemispheres (and other cookies) in the middle, but without the cookie box at the bottom.