The Best Event Platform to Create Your Own Custom Tickets
Eventbrite's industry-leading event management platform provides the best self-service solutions for you to create printer-friendly custom event tickets for your attendees.
Welcome to Eventbrite
Easily create and edit printable custom tickets with a suite of intuitive solutions
Eventbrite gives event creators a world-class suite of tools and technology that power the seamless creation of printable custom tickets for events of all shapes and sizes.

If you're new to event planning, or a seasoned event pro, you're in good hands with the go-to online platform used by the world's most-successful event creators.
Make your event even more memorable with custom ticket solutions
Eventbrite's self-service tools and advanced event management technology unite to provide you with eye-catching, printable custom tickets for your next sell concert tickets, party, or raffle fundraiser of any size in minutes.

Engage your audience and leave a lasting impression before your event even begins.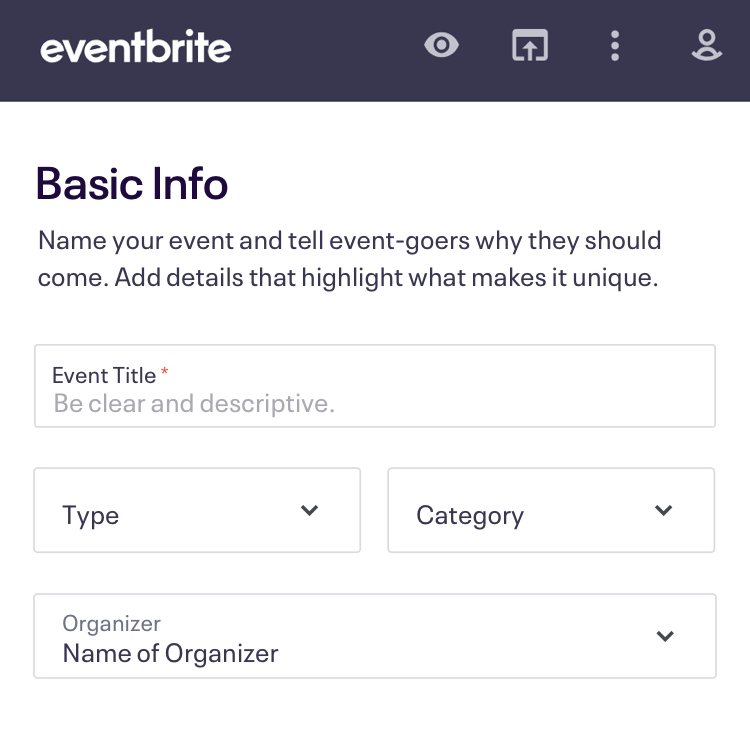 1
Diversify your custom ticket offerings and pricing strategies
2
Create beautifully designed custom event tickets your guests will love
Take your ticketing to the next level with printable custom-designed tickets with Eventbrite's printing partner, TicketPrinting.com, providing nearly 100 different ticket design templates to level up your look.
3
Elevate the end-to-end custom event ticketing experience for your guests
Eventbrite's digital ticketing solutions make it easy for your attendees to navigate your checkout flow and access their custom event tickets on their smart devices.


Easily create and share your custom tickets online with attendees, enabling them to download their tickets as a printable PDF or digital version linked in an email.


Extend your guests' end-to-end event experience with expedited entry via a quick scan of the QR code or barcode embedded in your tickets at the door.
Join the world's largest event community
"Eventbrite cut down check-in time by about 66%. There are no lines at the door and nobody is frustrated."

— Gabriella Graceffa-Bunker, EA to the President of Whole Foods NA

"With Eventbrite, it's just easy. Whether I'm sitting at my desk or on site at a festival, I can access everything on Eventbrite."

— Donnie Estopinal, CEO & Founder

"The ticket sales process is a lot easier and the check-in process has become seamless."

— Pete Torres, Director of the Tribeca Film Festival

"Working with Eventbrite has helped us sell more tickets. Anyone who's as data obsessed as I am will absolutely love Eventbrite's backend."

— Vicki McMurchie, Senior Operations Manager

"Eventbrite has helped us so much...they really seem to care about our company and the success of it."

— Kate Levenstien, founder and CEO of Cannonball Productions
Choose the package that's right for you
Get started free and avoid ticketing fees by passing them to attendees.
Essentials
The basics you need to start selling tickets in minutes.
---
Fee per paid ticket: 2% + $0.79
Fee per free ticket: Free
Ticket types: 1
Professional
The full set of tools you need to create, manage, and grow your events.
---
Fee per paid ticket: 3.5% + $1.59
Fee per free ticket: Free
Ticket types: Unlimited
Premium
Tailored partnerships for event pros with large or complex events.
---
Fee per paid ticket: Custom Pricing
Fee per free ticket: Free
Ticket types: Unlimited
Frequently Asked Questions
Try Eventbrite's industry-leading event technology platform to easily create printer-friendly custom tickets and sell out your unique live experience.