Dit evenement is afgelopen.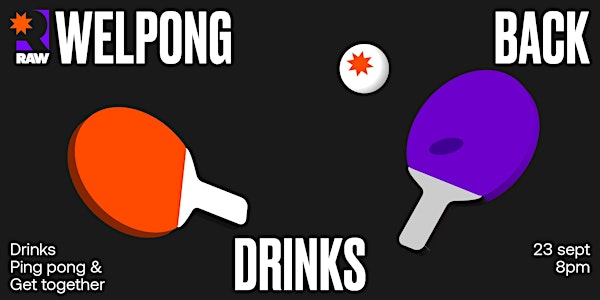 RA*W WelPONG Back Drinks @ PONG Ping Pong bar
Join us on September 23 at PONG to play some ping-pong, have a drink and hang out with cool, like-minded people from the creative industry.
Waar en wanneer
Locatie
PONG - Ping Pong bar 460 Spaarndammerstraat 1013 SZ Amsterdam Netherlands
Kaart en routebeschrijving
Over dit evenement
O-M-G it's finally happening. RA*W is leaving the digital space behind and returning to real life ❤️ What better way to kick-off than with a friendly game of ping-pong and a drink on September 23? Catch up with your advertising mates (or beat them at ping-pong), talk to inspiring and like-minded people & network your ass off!
We for one can't wait to see you, our beloved community, again. Thanks for sticking with us through these sh*itty times & let's celebrate the good things ahead with some beers and a nice game of ping-pong. And let's not forget about the best part: the first drink is on us! 🙏🏻
When
📅 Thursday 23 September 2021
20:00 - 23:30 PM
Tickets
💸 € FREE, but don't forget to register through Eventbrite - for covid reasons it's obviously good to know who joins!
Where
📍 PONG, Spaarndammerstraat 460