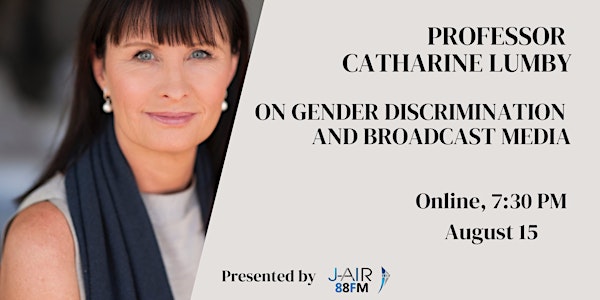 On Gender Discrimination and Broadcast Media
Professor Catharine Lumby shares her insights on the changing conversation of broadcast media and gender discrimination.
About this event
This online session will examine gender discrimination within broadcast media. It will address broadcasters' responsibilities towards gender equality and increase awareness of gender and discrimination prevention.
Professor Lumby is a respected researcher and speaker in Australia and internationally.
Her expertise in matters that include gender equality, cultural diversity, sexual violence prevention, young people and media, social media, and media content regulation and her ability to present her research in an accessible and relevant manner have meant she has been asked to speak to and consult with Australian organisations as diverse as the National Rugby League, Google, Channel Ten, David Jones, Endemol Shine and the Australian Defence Forces.
Over the past decade, she has also worked closely with the Australian Rugby League to assist in designing and evaluating education programs aimed at supporting players to behave in ethically responsible ways off the field, including in their treatment of women and understanding and responding to the health and wellbeing needs of young men from diverse cultural backgrounds. She has particular expertise in designing quantitative and qualitative research leading to best practice education programs that are designed to be engaging and inclusive.
She has written eleven books and numerous book chapters and journal articles in her fields of research. She is the Chair of the Media and Communications Department at Sydney University.
This event is organised by J-AIR 88 FM.