A Mix & Match event + 3 interactive workshops for adults (18+) with developmental disabilities in Toronto/GTA to make connections!
About this event
Mix & Match Virtual Event:
Spark a romantic connection or make a new friend! Join us for an evening of virtual "speed dating" with icebreaker games, individual breakout rooms, and more!
Lead-Up Workshops:
In preparation for the event, we are also offering a series of 3 interactive workshops designed to get you ready for dating! (See details below.)
*Please note that this event is exclusively open to adults (18+) with developmental disabilities.
-------------------------------------------------------------------------------
Event Details
How Does It Work?
Attendees will have the opportunity to connect with each other on an individual basis. Similar to speed-dating, attendees will rotate through "breakout" rooms where they will have 5 minute one-on-one conversations.
At the end of each conversation, attendees will determine what kind of connection they would like to pursue (romantic, friendship, or neither). After the conversation ends, attendees will be prompted to privately mark their preference on the tracking sheet provided.
Once the event has ended, attendees have the option to share their tracking sheet with the event facilitators. The event facilitators will pass on your email address and interest type to any individuals that you have circled "friendship" or "romantic" for (anyone circled "neither" will not receive your email address). Your tracking sheet will be kept entirely confidential otherwise. No email addresses will be exchanged without consent.
Once email addresses have been passed on, it is up to the two individuals to connect moving forward (event facilitators will have no involvement past this point).
Please note: All attendees will rotate through breakout rooms with everyone regardless of gender identity or sexual orientation. For example, two heterosexual males will still be paired in a breakout room together and can determine if a friendship is possible or not.
Zoom "Rooms"
Main room: A common space with structured activities. The event starts here with ground rules, structured activities, and icebreaker games.
Breakout rooms: Private environments for short, one-on-one conversations that "breakout" from the main room. A moderator will be present with their webcam and microphone off to ensure comfort and safety while still providing privacy. The staff will only interject upon participant request or if moderation/guidance is required.
Accessibility:
Participant tracking sheets will be available in multiple formats – fonts and formatting can be tailored in advance upon request
A moderator will be present in all Zoom rooms (including breakout rooms)
Unfortunately, no Sign interpreters will be provided
Please note: While we strive to make this event as accessible as possible, our ability to troubleshoot and support attendees experiencing technological difficulties will be extremely limited. If you are unable to navigate Zoom independently, someone who can support you must be present.
Diversity and Inclusion:
We strive to provide a diverse, equitable, and inclusive environment for all event attendees, whatever their age, education, ethnicity, gender, gender expression, gender identity, national origin, neurotype, race, religion, belief system, spiritual practice, sexual orientation, physical ability, physical appearance, body size, or other unique characteristics feel valued and respected. Anyone who acts in defiance of these principles will be permanently removed from the event.
A "safe space" community agreement will be created together at the beginning of the event. All attendees must abide by the community agreement for the duration of the event. Anyone who acts in defiance of the community agreement will be permanently removed from the event.
This event is inclusive of the LGBTQ2IA+ community (disclosure of sexual orientation is not required)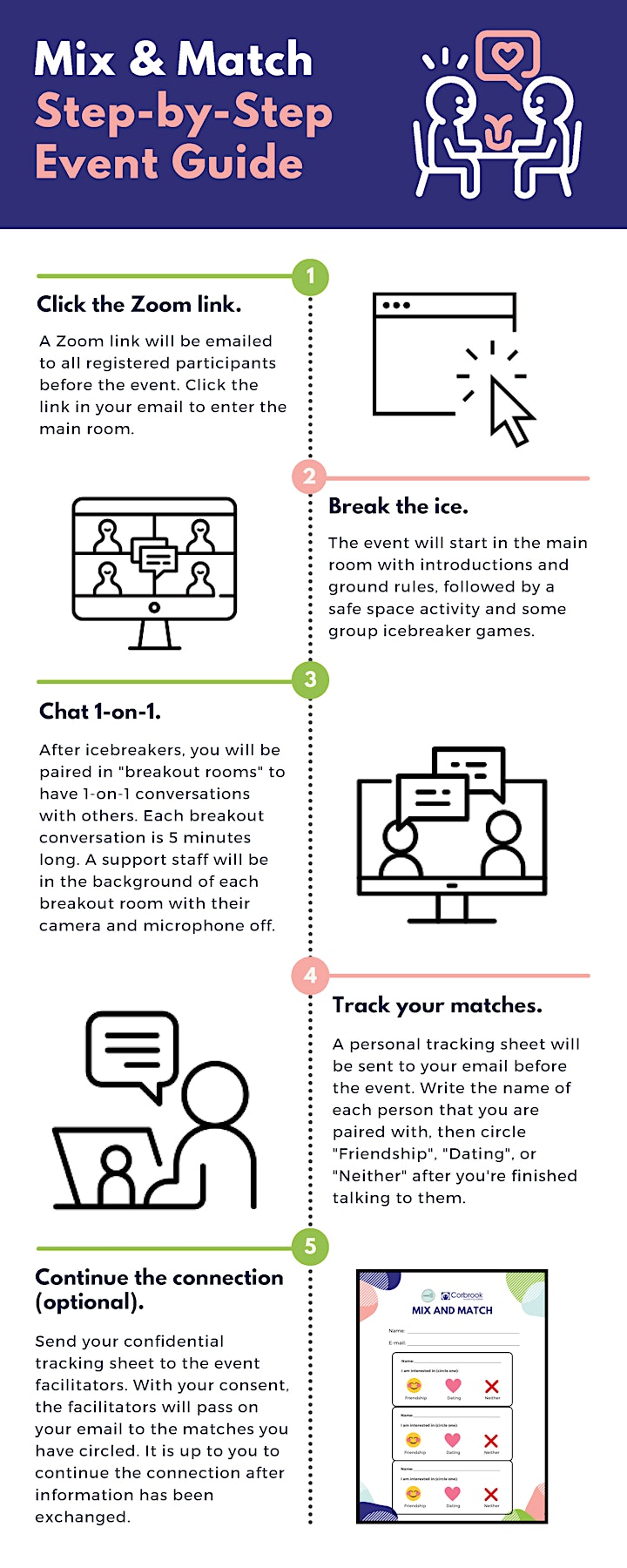 Mix & Match Lead-Up Workshops
Lead-up workshops are offered as a bundle – you cannot register for individual sessions. All workshops run from 5:30pm – 6:30pm.
January 20, 2022: What Am I Looking For? (*WORKSHOP COMPLETED*)
In this workshop we explore our unique identities, sexualities, and values. We learn how these things influence our dating preferences and help us choose appropriate partners.
January 27, 2022: What Do I Talk About?
This workshop offers an opportunity to learn and practice conversation skills for dating. We will review conversation starters, active listening skills, and strategies to keep a conversation going.
February 3, 2022: Dating Do's and Don'ts
In this final workshop we review practical guidelines for dating. We will cover important topics relating to safety, etiquette, and the dating process in general!
-------------------------------------------------------------------------------
Date and time
Location
Refund policy