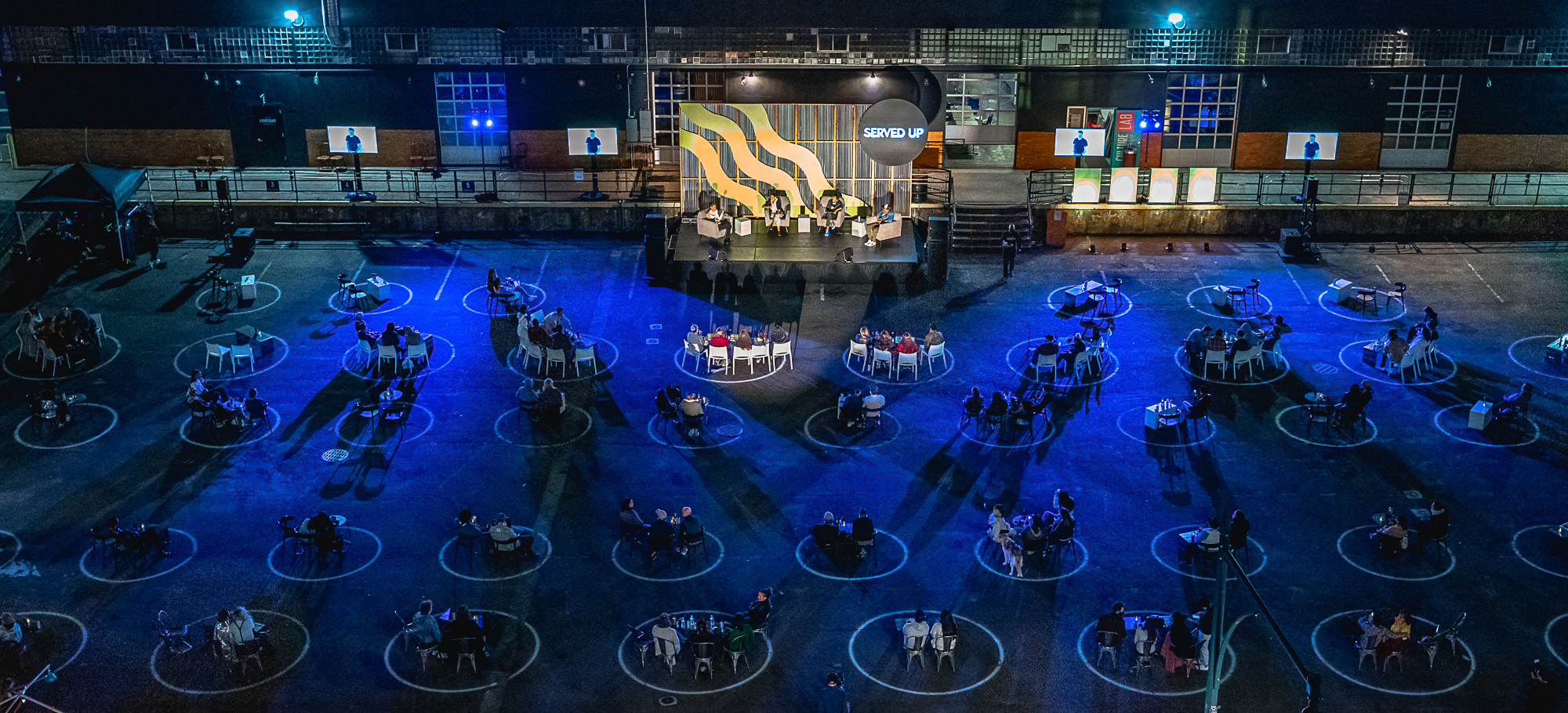 Events Industry Report: Reopening Updates, Restrictions, and Creative Safety Measures
As the COVID-19 pandemic lingers, in-person events — at least as we once knew them — remain at a standstill throughout much of the US. Some states saw a brief reprieve and relaxed restrictions in the summer, only to be followed by more stringent regulations as cases have continued to surge this fall.
Making sense of what's allowed, and where, can be complex for event organizers: Regulations are constantly changing, and they vary between different states — and even within counties and cities in the same state. 
To help keep event creators like you informed, Eventbrite is highlighting some of the most novel and noteworthy event reopening updates (and rollbacks) throughout the country. This report will be updated every two weeks. 
This report is provided for general information only and is not medical, legal, or professional advice. Consult your specific state and local government sources for the most up-to-date guidance to ensure compliance with all applicable laws, regulations, and orders before hosting in-person events. 
Nov. 19, 2020:
First, Some Good News
Though in-person events remain in flux and coronavirus cases are rising, there have been some promising recent developments.
Pfizer, one of the pharmaceutical companies working on a COVID-19 vaccine, announced that early data indicate its vaccine is

95% effective

. That's an even higher percentage than many experts had hoped.

Another company in the vaccine race, Moderna, says

preliminary results show

that its vaccine,

funded with help from Dolly Parton

, is 94.5% effective against COVID-19. The first doses could be available to high-risk and other special populations sometime in December. 
Here's a breakdown of what's happening with event reopening rules and restrictions in different regions across the US:
Northeast
As COVID-19 cases increase in Massachusetts, the state is

clamping back down

on event restrictions. Indoor gatherings are now restricted to 10 people, regardless of whether they're at a public spot or private residence. Outdoor gatherings are limited to 25 attendees, and all attendees must disperse by 9:30 p.m.

Ohio Gov. Mike DeWine responded to the nationwide surge in cases by banning dancing and games at gatherings such as wedding receptions and banquets. That's in addition to a

10-person cap

that applies to both public events and private gatherings (outside of single residences, weddings, funerals, and religious observances).
South
In Washington, D.C., a

live music pilot program

including seven indoor venues has been extended until Dec. 30. The participating venues – such as the revered Kennedy Center, the (mostly) seated

Hamilton Live

and the basement nightclub

Union Stage

– can't have more than 50 ticketed patrons, and seats must be at least 20 feet from the stage. That jumps to 30 feet if there's singing, which tends to spread airborne particles. Guests must remain seated throughout events, so no dancing, and venues have to enforce one-way traffic and maintain records of all attendees to help facilitate contact tracing.

On Nov. 10, Montgomery County in Maryland, which is adjacent to D.C., voted to cut public gatherings (such as festivals and other events) to 25 people max, down from 50. The move came as coronavirus cases climbed throughout the region.

After about a month of limited outdoor events, Lubbock, a city in Texas,

re-tightened its restrictions

. Effective Nov. 1, outdoor gatherings of more than 10 people are not permitted in the city. Drive-in events, like concerts and movies, are still allowed, and organizers can lobby the mayor for exceptions to the 10-person rule.

Austin isn't Austin without live music. The city is participating in a program called

Reopen Every Venue Safely

, which is developing guidelines for whenever it's safe to host shows again. The in-depth advice includes sample procedures for when artists arrive at a venue, how to safely handle gear and what to do about food and beverage service.

Nashville's Belcourt Theatre

reopened in November with a makeover: In addition to an upgraded ventilation system, the venue installed ultraviolet light air scrubbers. Capacity for events ranges from 17% to 22%, and staff members are helping ensure social-distancing. Masks are mandatory.
Midwest
A Wisconsin appeals court

blocked the Democratic governor's emergency order

, which limited public gatherings and capped capacity at bars and restaurants. That means there are no statewide restrictions on gathering sizes, though individual counties are enforcing their own rules.

Chicago reimposed restrictions

that impact events and other social gatherings. Indoor performance venues and movie theaters are now limited to 50 socially-distant guests, or 40% capacity, whichever number is smaller. Meetings and events such as weddings and birthday parties must abide by a 10-person limit, whether they're indoors or outside.
West
In Phoenix, public events with more than 50 people are prohibited, barring special approval from the city. Event organizers can submit an

online application

, which includes outlining their plan for cleaning and disinfecting, and providing documentation on how social distancing will be enforced. Private events not open to the public hosted on private property do not require the city's approval, no matter the gathering's size. 

Nevada recently rolled back restrictions

, allowing large meetings and other gatherings to resume in Las Vegas – with a max of 250 attendees. That limit doesn't include staff and/or performers, and event organizers can have up to 1,000 guests if they meet a slew of requirements. For example: submitting a safety plan to local authorities; separating guests into different rooms with 250 people or 50% capacity at all times; and requiring all guests to register ahead of time. (The state's health officials

recently clarified

that any type of vocal performer — which includes comedians and magicians, who rely on verbal communication — can take their face masks off during performances, as long as they continue to follow social-distancing rules.)

In Colorado, counties are designated

one of four levels

: "protect our neighbors"

–

which means the most lax restrictions

–

followed by "cautious," "concern" and "high risk" levels. Guidelines for outdoor events vary based on designation. Counties in the "protect our neighbors" stage can host outdoor events with up to 500 people, for example, while the other levels range from 75 to 250 guests. There are lots of guidelines for all events, regardless of size, including single-direction traffic flow, collecting guests' contact information and providing flexible cancellation policies. The state recommends staggering guest arrival and keeping events short so attendees don't need to use the restrooms, where germs often spread more easily. There's also a handy

social distance spacing calculator

that can help you set up your event space. 
For more resources on staging in-person events during the pandemic, consult Eventbrite's COVID-19 Safety Playbook for Events.