Improv is by nature a wild ride. Add a shot of whiskey (or five) to the equation, and you get the merry zaniness of Drunk Theatre, the long-form comedy experience that draws fans across California.
"When you learn improv, they're like, 'Hey, don't do it inebriated,'" says Ittai Geiger, executive producer of Drunk Theatre. "We're like, 'We're gonna do that.' We had to come up with an idea that was gonna get butts in seats."
Geiger, who's also a performer with Drunk Theatre, founded the troop in 2017 with a group of comedy-loving friends in San Francisco. What began as an occasional show at PianoFight expanded to corporate parties and distillery bookings. Soon, Drunk Theatre was doing weekly shows. By 2021, their brand of tipsy theatrics had grown enough for them to add a weekly show in Los Angeles.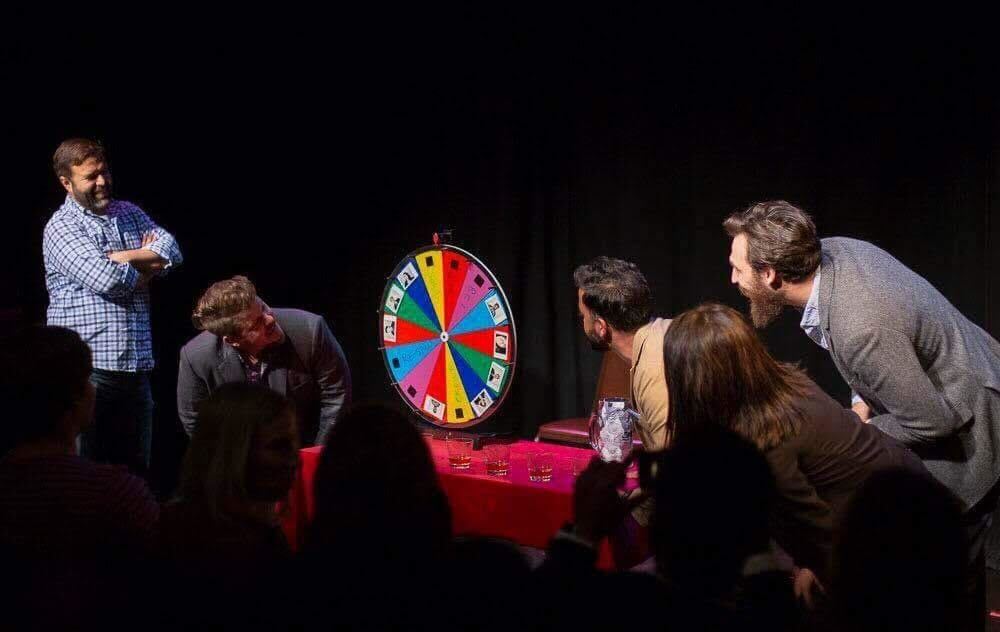 The expansion points to new horizons for Drunk Theatre. "Now what we're spending on marketing, on rent, on whiskey is more than not offset by what we bring in with ticket sales. That's letting us play a little bit more," says Geiger. "It's not about us making money. It's about letting it invest in itself and continue to grow."
And that means investing in holiday marketing – think Halloween or New Year's Eve – when people are excited to go out. To increase exposure for Drunk Theatre, Geiger uses Eventbrite Ads. "Ultimately what I need is for people to land on the event page," says Geiger. "The more views I have, the more likely I am to sell out."
How Drunk Theatre used Eventbrite Ads to power 80k impressions during the busy Halloween season
For a bunch of film and comedy buffs like the troupe at Drunk Theatre, Halloween is a big deal. They devoted not one but two weekends of programming, in two cities, to Halloween Special events.
Geiger used Eventbrite Ads to promote Drunk Theatre's two Halloween specials. Within minutes, he created an ad that would appear in prominent places across Eventbrite pages in their market. The reporting allowed him to track views and clicks, as well as the budget with clear reports.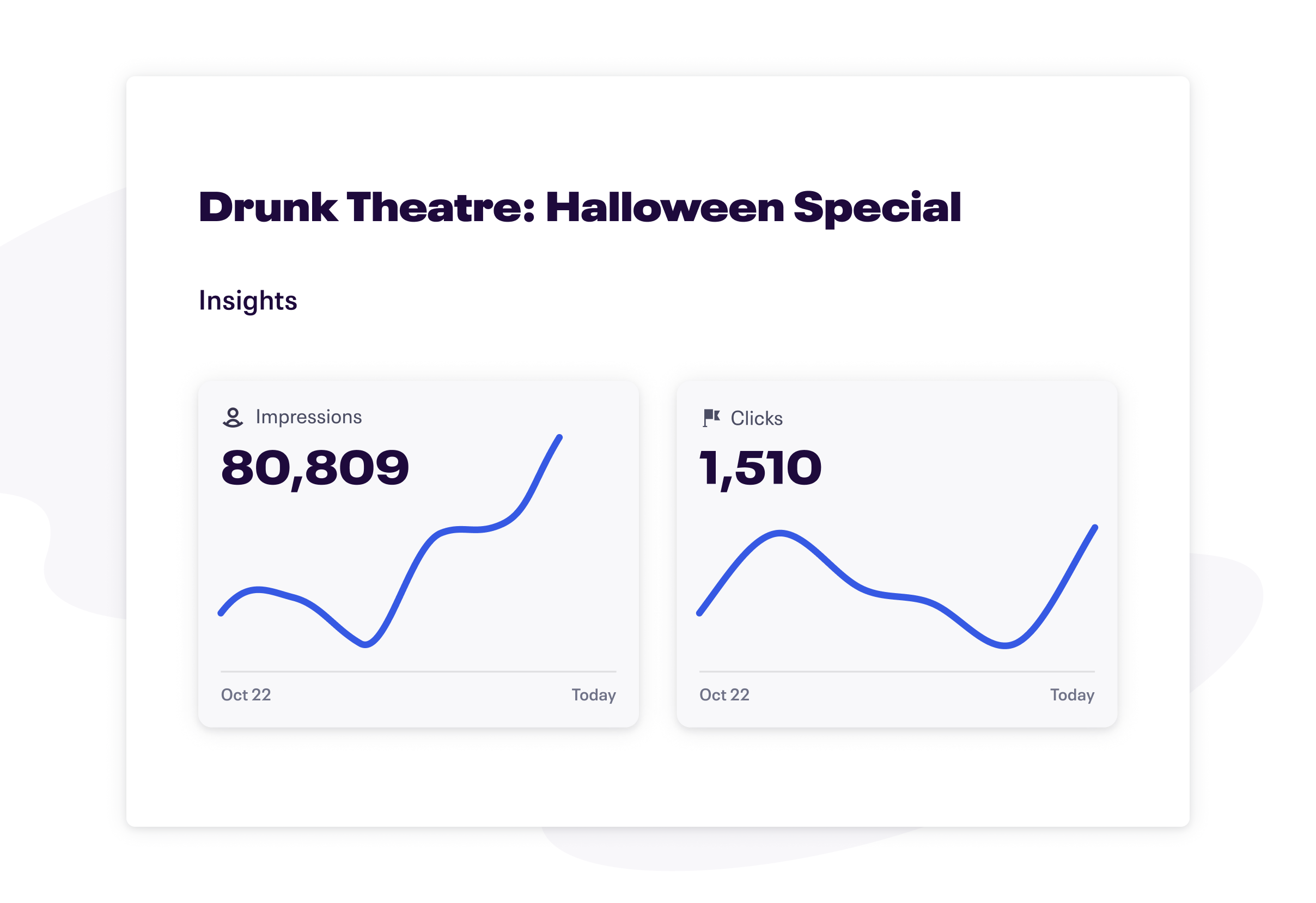 And those results were scary good. The Eventbrite Ads for Drunk Theatre's two Halloween shows was seen 80,809 times, generating nearly 5k pageviews and 1,510 clicks. On a holiday weekend, when a high volume of event-goers are actively looking for a night-out activity, Drunk Theatre stood out for event-goers looking for events in the Los Angeles area.
"As event creators," Geiger says, "we want to grow. Being able to promote our events on the Eventbrite platform is mission critical and a huge game changer."
Growing exposure and marketing reach with Eventbrite Ads
While Geiger and the Drunk Theatre team are focused on the future (Drunk Theatre Chicago, anyone?), he understands the foundation of that future is laid today. That starts with being seen where people are searching for events, which Geiger sees as especially important for rising artists. "I work at Eventbrite and when I heard that we were piloting Ads in LA, I was super excited to try it out for Drunk Theatre – I kept bugging the product team," says Geiger.
"We're not famous," he says. "Not yet, at least. When people are considering shows that have a celebrity, it's much easier to convert them. Drunk Theatre is up and coming. We still have a lot of work to do. And so being able to make sure people see our event is a huge, huge help."
Ultimately, Geiger recommends Eventbrite Ads (and Eventbrite Boost, which he uses for paid social ads), to other event creators in the arts. "The only way to make your thing happen is if you do it yourself," he says, and that's the approach he brings to event promotion, too. To date, Drunk Theatre has launched 10 Eventbrite Ads campaigns, which have driven nearly 200k impressions and 3.8k clicks.
"Because I care about producing and making my show successful, I've had to learn and understand that marketing plays a part in that," Geiger says. "The production is important, the improv is important, the sound is important, like all these pieces are important and, equally, so is marketing. If you want the sold-out house, you better be using all the tools you can to get that sold-out house. And for us, that includes Eventbrite Ads."