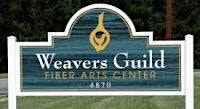 Weavers Guild of Greater Cincinnati
The Weavers Guild of Greater Cincinnati, Inc. was created in 1948 as a non-profit educational organization to promote interest in handweaving. Today, the Guild offers education in a wide range of fiber processes and techniques, including weaving, felting, spinning, basketry, knitting, and dyeing. Guild members are from the Cincinnati metropolitan area and surrounding communities, as well as from Kentucky and Indiana.
 Members range in experience from beginners to professionals. All benefit from the Guild's priorities: education through classes, workshops, programs, study groups; sharing information and fiber techniques with other members and community groups; and promoting and supporting local fiber producers and businesses.
 After 50 years of meeting in various churches throughout Greater Cincinnati, the Guild has its own home at 4870 Gray Road in Spring Grove Village.