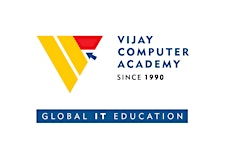 VIJAY COMPUTER ACADEMY (VCA)
 VIJAY COMPUTER ACADEMY (VCA) is a global IT institute dedicated to providing world-class IT education and training to individuals (from ages 9 to 90), small and medium scale businesses, corporations, nonprofits, government agencies, financial institutions and higher education institutes.
VCA has been accrediated to offer AICTE approved NIELIT courses recognised by MCIT, GOVT. OF INDIA .
Our 29 years old IT academy offers career and workforce development, and corporate and community empowerment through IT certification and diploma courses. Our mission is to tackle global sustainable development goals 4, 5, and 8 – quality education, gender equality, and decent work and economic growth.
For nearly 3 decades, we have been on a social mission to bridge skills and gender divide through our quality, but affordable, IT programs.
Since inception, our tailored IT training to businesses and their employees have improved company production, increased company revenue, and enhanced the skills of employees.
Please contact us at 832-500-4136 or info@vijaycomputer.com to learn about our programs and services offered online with live instructors and our campus located in STAFFORD , TX.