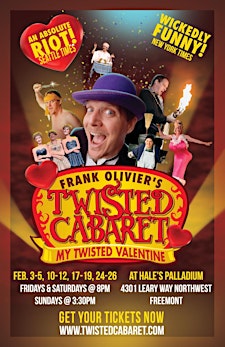 Twisted Cabaret
Discover something fresh, new, and unique. Frank Olivier's Twisted Cabaret is the most hilarious show on the planet.  You'll laugh till it hurts.

Twisted Cabaret is a variety show featuring acts and artists from all over the world. On the night of the big show none of the artists are there. To save the show, Frank Olivier has to do all the acts himself including a Magician, a Juggler, knife-thrower, Sword-Swallower, fire eater, nine foot woman, midget stage hand, and a narcissistic mime that no one likes.
The show is non-stop action from beginning to end. The venue is a converted brewary with a comfortable party atmosphere unlike any other. The beer is fresh, cheap, and plentyful. Your going to love Twisted Cabaret at Hale's Palladium. 

Date night tables available with rose petals and chocolates for you and your someone special. Private VIP talbes available for parties of four with candy and champagne. Every seat has great views of the show so you can see all the action.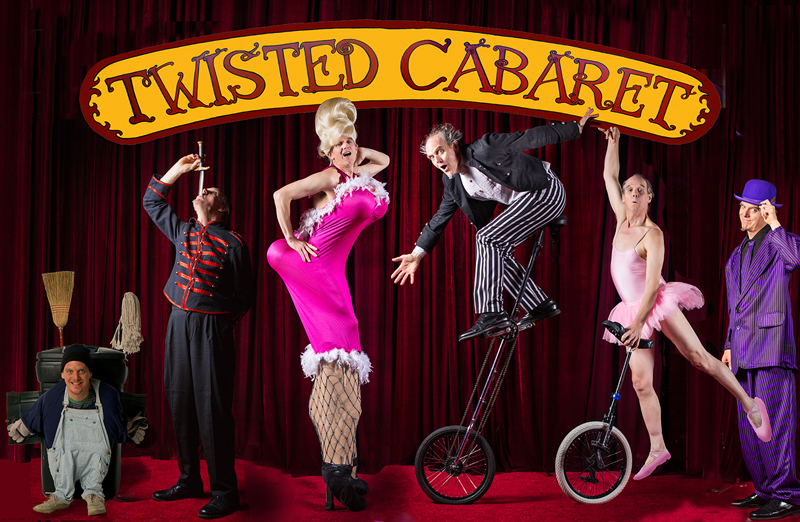 Hales Palladium is Seattle's funky warehouse theater in the back of Hale's Brewery in Fremont. The beer is fresh and delicious, the shows are fantastic fun, and the staff is friendly and welcoming.
Sorry, there are no upcoming events