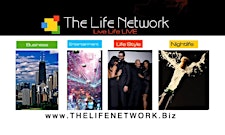 TheLIFEnetwork.biz & IAM.CoachCA3.com
The Life Network was founded in 2002. The Network's goal is to enlighten, inspire, and engage professionals across the country by providing information relating to business resources, social events, and community programs through online avenues. TLN also strives to support entrepreneurs and businesses looking to share information with a diverse, well-educated, influential, and progressive audience.
Our Mission
We strive to bring you the best in business and entertainment. Our Network is just that, a "Network" where Entrepreneurs, Business Owners, Artist, Comedians and the Hottest Movers and Shakers can showcase their brand, business or event. 
 Text NETWORK to 312.774.2464
The PartyCoach CA3 makes sure you have All the Tools and Know How to
"Make this LIFE the Best PARTY Ever!"
     Text CA3 to 312.774.2464
Sorry, there are no upcoming events