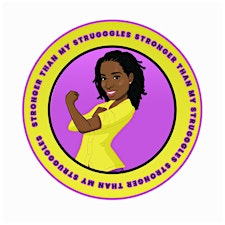 Stronger Than My Struggles
Melony Hill is the definition of woman in control of her life and career. Constantly counted out by society due to emotional instabilities and a traumatic upbringing stemming domestic violence, sexual assault and childhood abuse, Melony has reclaimed her life and inspires others to do the same.
In 2010, Melony was diagnosed with a slew of emotional illnesses such as depression, anxiety disorder, PTSD, and dissociative identity disorder. To add to her daily struggles, Melony also was diagnosed with chronic pain from Fibromyalgia.
Never one to let an obstacle deter her from her goals, Melony has thrived, despite her mental, physical and emotional limitations. A full-time entrepreneur since 2007, after multiple career paths, she found he true calling as a Curator of Safe Spaces to have hard conversations. Over the last two years, Melony has self-published 8 books, spoken at colleges and universities, became a Life Transition Coach and launched Stronger Than My Struggles to connect other survivors like herself.
Stronger Than My Struggles, was created to heal through the written and spoken word, offering resources, support and services to survivors from all walks of life. Coach Melony hosts a series of workshops in the Baltimore area including a free weekly therapeutic writing workshop, Writing for My Sanity, which she named after her book of poetry.
 In May 2019, Melony made history as she launched the first ever Black Mental Health Awareness Tour, Crazy Like a Fox: Black Mental Health Matters.
 Melony looks forward to helping you achieve your dreams as well. She is stronger than her struggles and wants you to know you are too.