Rev. Barbara Soliman, MCHT, CSMC, RMT Godspeed Pathways to Success!
FOR EVENT REGISTRATION PLEASE FOLLOW
LINKS BELOW INFORMATION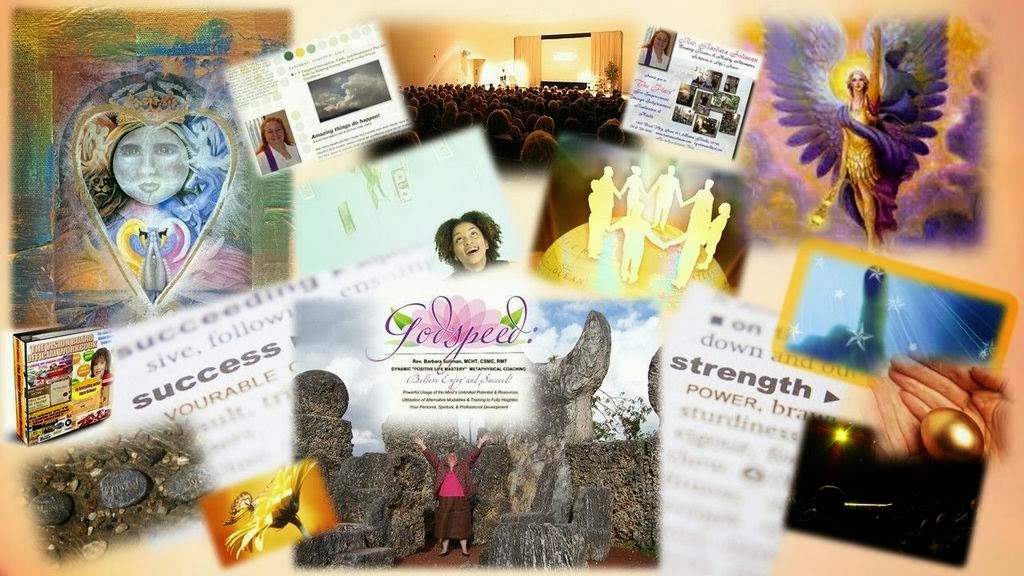 Rev. Barbara Soliman, MCHT, CSMC, RMT 
GODSPEED PATHWAYS TO SUCCESS! LLC
Presents
DYNAMIC "POSITIVE LIFE & SOUL MASTERY" METAPHYSICAL COACHING/TRAINING
Expert Utilization of Alternative Modalities & Training to Fully 
Heighten Your Personal, Spiritual & Professional Transformational Development 
&
GODSPEED-NETWORK EXECUTIVE CONSULTANCY COACHING & TRAINING 
Executive Enterprise Consultant & Mastermind Coach
Maximum Creative Performance
Generating Highly Successful Results!
GODSPEED PATHWAYS TO SUCCESS!
"DYNAMIC LIFE MASTERY" PROMOTION
INTERVENTIONS/TRAINING/CERTIFICATIONS
Powerful Usage of the Mind's Unlimited
Resources Leading to YOUR Desired Success
MASTER LEVEL, HIGHLY INDIVIDUALIZED 
INTERACTIVE BILINGUAL SERVICES & TRAINING
INTER-DENOMINATIONAL MINISTRY / UNIQUE WEDDINGS & UNIONS, 
SACRED SPACE DESIGN, RITES OF PASSAGE & MASTER OF CEREMONIES
SERVING TEENS, FAMILIES PROFESSIONALS & ENTERPRISE GROUPS
EXQUISITE CIRCLE PROGRAMS FOR WOMEN TO GROW IN VERY UNIQUE AND
HIGHLY INTERVENTIONAL WAYS... DANCE, WORK WITH THE ELEMENTS,
LEARN TO REACH YOUR HIGHEST POTENTIAL, BE FULLY VALIDATED
AND CREATE YOUR BEST LIFE REGARDLESS THE ODDS OR CIRCUMSTANCES
ALL INTERACTIONS, TRAININGS & EVENTS ARE
BY APPOINTMENT & PRE-REGISTRATION ONLY
YOU CAN SET/PAY FOR INTERVENTIONS DIRECTLY FOR ALL OF
OUR SERVICES AND INTERVENTIONS FROM LINK BELOW:
Cel 305 788-4360
(Please text me if you get voicemail. Thank you!) 
Websites:
www.godspeed-network.guru
E-Mail:
revbarbarasoliman@godspeed-network.guru
Blogspot:
WordPress:
Twitter:  @revbarbysoliman 
Facebook:
www.facebook.com/Godspeed-Network Circle of Prayer & Inspiration
www.facebook.com/SUCCEED! Live Life at Its Fullest Potential!
Linkendin Professional Profile: