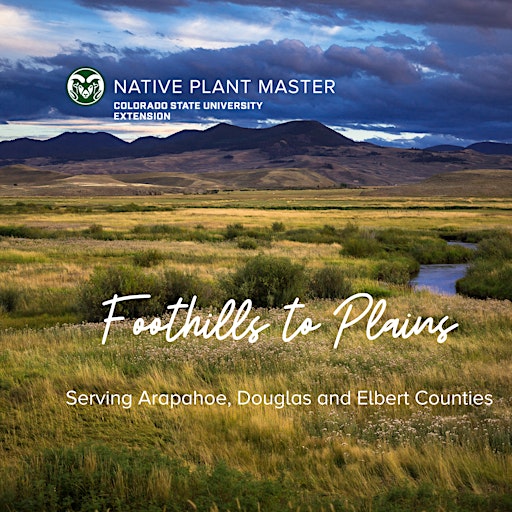 Native Plant Master Program - Foothills to Plains
Foothills to Plains Native Plant Master Program offers classes in Arapahoe, Douglas, and Elbert counties. 
Learn more about native plants and local ecosystems by signing up for one-day classes or a class series.
New to native plants? Start with our Explore Native Plants classes, our Nature Walk classes, or some of our Focus classes. Take a 2-3 hour class in the field or in the garden. In these classes, you will brush up on basic botany, be guided on a botanical exploration of a unique ecosystem, learn about using native plants in the landscape, or learn how to advocate for sustainable landscape choices.
For those wanting to deepen their knowledge, take a Native Plant Master (NPM) Course to learn more about Colorado plants during three 4-hour sessions outdoors in a natural area. Each NPM course is 12 hours. These courses will sharpen your plant identification skills and teach you about the important role of native plants in our ecosystems and landscapes. We offer an early-spring botany class and a plant families class that is a good pre-requisite for any Native Plant Master course.
For more information on the Native Plant Master program and to become a certified Native Plant Master, visit https://arapahoe.extension.colostate.edu/foothills-to-plains-native-plant-master-program/. For questions on specific classes, please email Lucinda Greene at lgreene@arapahoegov.com.
Colorado State University Extension provides information and education and encourages the application of research-based knowledge in response to local, state and national issues affecting individuals, youth, families, agricultural enterprises and communities of Colorado. Extension programs are available to all without discrimination. Colorado State University Extension, U.S. Department of Agriculture and Colorado counties cooperating. If you have a disability for which you seek accommodation, please notify lgreene@arapahoegov.com at least 30 days before the event.
Sorry, there are no upcoming events