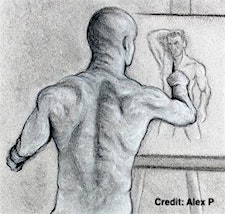 Men Drawing Men
MEN DRAWING MEN (new family-friendly name) MensNakedDrawing below
We are a figure drawing/life drawing group for male-identified artists of all skill levels. We feature male models exclusively.
Live online/virtual drawing sessions (uninstructed)
Instructional classes with guest teachers
Members-only forum to chat and share drawings.
Lbrary of posing videos sessions.
All Men Drawing Men sessions welcome respectful male-identified artists of all ages (18+ to 90+), ethnicities, sexual orientations and body types. Wear whatever is comfortable for you.
MENSNAKEDDRAWING GROUP
NOTE: Our in-person sessions will resume once it's safe again.
A figure drawing sketch group for male-identified artists take turns posing for each other. You don't have to be an "artist." We welcome beginner artists. We're friendly and non-judgmental (of both drawing skills and bodies)! Clothing is not permitted at our in-person sessions.
Look for MensNakedDrawing only on Meetup.com in these cities:
LOCATIONS:
New York City
Austin, Texas
Phoenix, Arizona
Inland Empire, California
San Francisco, California