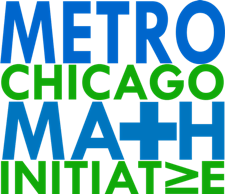 MCMI PD for Administrators
The Common Core State Standards for Mathematics (CCSSM) and the current environment are encouraging many districts to deepen their capacity to support student learning and engagement. School and district administrators have a crucial role in supporting teaching practices that engage and meet the needs of diverse learners in either face-to-face or remote settings. MCMI is offering five virtual courses during the 2020-2021 school year. Courses will support administrators in MCMI Mathematics PD Consortium districts, as well as interested administrators from other districts.

Courses are connected to the themes of MCMI teacher professional development to promote coherence and support collaborative action in districts and schools. The TRU Framework, the Mathematics Teaching Practices in Principles to Actions (NCTM, 2014), the CCSSM, and equity-based teaching practices will guide discussions about productive best-practices for the teaching and learning of mathematics in face-to-face and remote settings. Administrators may also attend the other MCMI sessions for teachers or teacher leaders.

Additional information about the courses is available on the MCMI web site at:
http://mcmi.uic.edu/mcmi-events/
Course 1: Laying a foundation for supervision to support mathematics learning(One half-day—October 1, 2020) No Administrator Academy credit
Course 2: Deepening Understanding of Student Assessment – Of and for Learning (Two half days — October 28 , November 18, ISBE Credit approved — Course #1606)
Course 3: Using Formative Assessment Practices to Meet the Needs of All Learners (One half-day— January 14 ) No Administrator Academy credit
Course 4: Looking into Mathematics Classrooms Through the Lens of the Danielson Framework (Two half days — February 11, March 11, ISBE approval for IAA Credit pending)
Course 5: Guiding Principles for Instructional Leaders to Support High Quality Mathematics Programs (Two half-days —April 14, May 5, ISBE Credit approved -Course #3695)