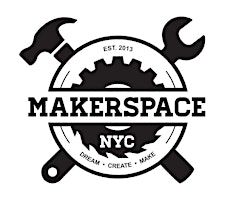 MakerSpace NYC
MakerSpace NYC is a non-profit, community workspace for makers, builders, tinkerers, hardware developers, hobbyists, artists, entrepreneurs, and anyone with a curious mind who wants to make something. We offers tools, equipment, resources, workshops, and 6000 sq ft of space for you to make your ideas come to life.  We have two locations, Staten Island MakerSpace and Futureworks MakerSpace at the Brooklyn Army Terminal.
The goal is to create a community of makers and foster an environment of entrepreneurial spirit and invention, by providing equipment and space to a membership that includes skilled craftspeople as well as weekend hobbyists.
Members are artists, craftspeople, engineers, makers, creators, and thinkers that work together to collect tools and resources for members who might not otherwise afford, store, or use them individually. These resources are used to encourage our members to develop and start small businesses in our community and to encourage collaboration and experimentation across disciplines.
Memberships are available at a variety of levels. Day passes and short term project rental space are also available.
Private workshops are also available, please contact us for more information.
Workshops are updated monthly, please check back often.
Staten Island MakerSpace • New York, NY
$200 - $225