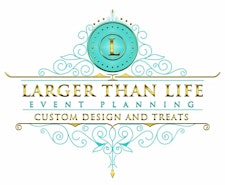 Larger Than Life Event Planning Custom Designs And Treats
Larger Than Life Event Planning Custom Designs And Treats
Shaquilla Shannon currently runs two summer camps in the summer that teaches young kids business, entreprenuership, event planning and treat making.
Mrs Shannon is the Creator of The Event Planning & Treatmaking 3 Day Workshops that are  now 5 day workshops held around the world! Mrs Shannon is an established Best Selling Author who has written 2 books, and she has a Bachelors (USF) and Masters Degree (New York School of Interior Design ) in Interior Design along with being a Graduate of the IWED Institute. Shaquilla is a Mother of 3, a Wife, she's also is an International Event & Floral Designer, an Educator, Mentor & Event Business Coach, a Sought After We'll Known Speaker has been called An Innovator in her field. 
Shaquilla Shannon, President and founder of Larger Than Life Event Planning, Custom Designs & Treats has the vision, expertise, and Connections to lead her team to create events that are memorable and exceed expectations. 
Successful entrepreneurs take pride and love what they do, and without doubt Shaquilla's craftsmanship speaks volume in action from start to finish. In 2010, she started her business from scratch and Larger Than Life Event Planning Custom Designs and Treats continues making dreams "Reality" Known as the "the Magic Touch, Shaquilla listens and digests information, then her creative ideas are always brewing, giving new energy to every event her team plans.
Through the years, Shaquilla has established connections with an extensive network of trusted professionals to customize the best team for each event. Her experience includes managing events of all sizes from corporate meetings to fundraising galas and celebrations. Shaquilla enjoys supporting local businesses and charities.
While events are a fast -paced business, Shaquilla takes time to pause and focus on what's most important.
Mrs. Shannon educates hundreds of event planners who are mastering their crafts at business and wedding planning workshops around the US. She also has a Mentorship Program that caters to Event Planners and Treat -makers all over the world.
As an Event Coordinator & Mentor she is constantly challenging her skills, her way of thinking, and her mindset to create an experience her clients and mentees will never forget. Larger than Life teaches in-house secrets, resulting in reaching a goal to help event planning business owners create success beyond limits. Shaquilla loves to give 500% in all areas of her expertise. One of her favorite quotes inspires her to always take it to the next level.
'There's always another level up. There's always another ascension. More grace, more light, more generosity, more compassion, more to shed, more to grow." - Elizabeth Gilbert
http://largerthanlifeeventplanningcustomdesignsandtreats.com/
Hampton Inn Tampa Downtown Channel District • Tampa, FL
$195 - $300