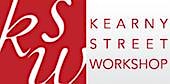 Kearny Street Workshop
WHO WE ARE: Founded in 1972, at the zeitgeist of the Third World Liberation Movement, Kearny Street Workshop is the oldest Asian Pacific American multidisciplinary arts organization in the country.
WHAT WE DO: Offering classes and workshops, salons and student presentations, as well as professionally curated and produced exhibitions, performances, readings and screenings, KSW makes artists out of community members and community members out of artists. For the past 41 years, KSW has nurtured creative spirit, offered an important platform for new voices to be heard, and connected artists with community.
MISSION & VISION: Our mission is to present, produce, and promote art that empowers Asian Pacific American communities, with the ultimate vision of a more just society that fully incorporates our historical roots, cultural values, and contemporary issues.
Sorry, there are no upcoming events