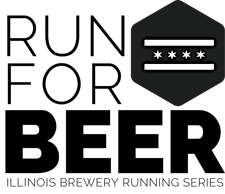 Illinois Brewery Running Series
WHO WE ARE: We are the Illinois Brewery Running Series and we run for beer! We host 5k-ish, fun-run events that all start and end at local Illinois breweries, primarily in the Chicago area at this time. We welcome all runners, walkers, joggers, and spectators that are interested in enjoying the great sights and unique neighborhoods around Chicagoland as well as the great craft beer our breweries have to offer. All of our participants complete a 5k course nearby each brewery. Afterwards, everyone hangs out, drinks beer, and walks away with some Illinois Brewery Running Series swag!
WHAT WE'RE ABOUT: It's simple - be active, have fun, give back! In addition to pairing some exercise with great beer, a portion of all proceeds go back to local non-profits. In 2020, we are excited to partner with the Chicago Parks Foundation and Chicago Run. We are very proud the Illinois Brewery Running Series has so far donated over $16,000 to local non-profits!