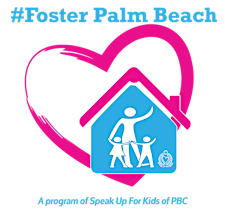 #Foster Palm Beach, A Program of Speak Up for Kids
Speak Up For Kids' program, #FosterPalmBeach, is a community-wide approach to recruitment and raising public awareness about the need for foster families to care for Palm Beach County's children.
Our goal is to have more waiting families than kids who need a home!
Take a minute to learn ways to help address the critical need for families willing to help foster children succeed. You can be the person in their life who cares what happens next and make an everlasting impact in their lives and our society. 
Learn more at www.FosterPalmBeach.org
Camelot Community Care (Palm Beach) • Greenacres, FL
Camelot Community Care (Palm Beach) • Greenacres, FL