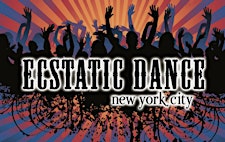 Ecstatic Dance NYC
Ecstatic Dance NYC gathers for a transformative, electronic music journey, mixed with intention. Move however you wish, in a container for conscious dance and freeform movement. No booze, no shoes and no chit-chat on the dance floor helps us keep it intentional. Amazing music helps us keep it all about dance!
Guidelines:
1. No talking on the dance floor (plenty of room to talk off-floor)
2. Drug-Free, Smoke-Free, Alcohol-Free environment
3. No photos or videos, cellphones muted and out of sight
4. Care/Awareness for the space and each other
5. Move your body however you wish
6. You can dance alone, or with as many partners as (you) like to join. (If you'd rather not dance with someone, thank them for the offer by placing your hands in prayer position at your heart – Namaste.)
What to Bring:
1. Loose-fitting clothes that let you move your body and free yourself
2. Water and a water bottle. You can refill it at the venue. 
Sorry, there are no upcoming events