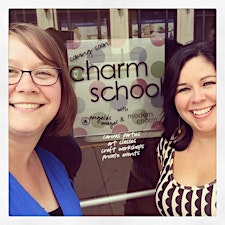 Charm School
Angela Tapy and Yvette Morgan have taken on this venture that brings a creative flair to Terre Haute! Join us at 2971 Erie Canal Road to create, craft and make memories!  Small class sizes allow you to channel your inner creator! 
COMING SOON: Sewing, Crocheting, Cricut and other fun classes! Help us welcome more makers to our studio space! We hope to see you soon.
Angela, owner of angela's images, has loved art and creating her whole life and holds a B.S. in Art from Indiana State. "I love that my Degree has finally come full-circle. Being able to learn, work, and now teach in my own space in Terre Haute is amazing. I cannot to wait to see what will happen here!"
Yvette, owner of Modern Charm Boutique , has an eye and love for vintage and crafty things. She can't wait to show you what our space has to offer!
Charm School • Terre Haute, IN
$15