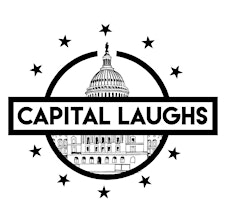 Capital Laughs
Capital Laughs is an independent comedy production organization run by a group of Washington, DC based stand-up comics. Our mission is to cultivate a thriving, diverse DC arts scene by providing a unique and intimate experience for laughers and an enriching environment for comics.
With four weekly shows and more to come (returning to H Street and The Loop), there's plenty of opportunities to get away from your kids, your school work or even just your annoying siginifcant other and join us for laughs when we best fit in.
Comics who have performed on our shows have also been seen on and/or released specials on HBO, CBS, NBC, Comedy Central, TBS, the DC Improv, Magooby's Joke House, the Montreal Comedy Festival, Just for Laughs, Edinburgh Fringe, and many other just as cool places. Some have been on or written for The Late Show w/ Stephen Colbert, The Tonight Show w/ Jimmy Fallon, Chappelle's Show and Saturday Night Live; many have albums they're working on. And, a few are also new--you gotta start somewhere.
We hope to see you at a show.