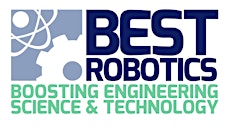 BEST Robotics
BEST (Boosting Engineering Science and Technology):
A non-profit volunteer organization whose mission is to inspire students to pursue careers in engineering, science, technology, and math through participation in a sports-like science- and engineering-based robotics competition.
The BEST Robotics program is implemented through 50 BEST hubs (licensed competition sites) in 19 US states. We serve over 13,000 middle and high school students annually, requiring no participation fee or cost for robotics kit materials.
BEST is less about building robots and more about teaching students how to analyze and solve problems.
Sorry, there are no upcoming events