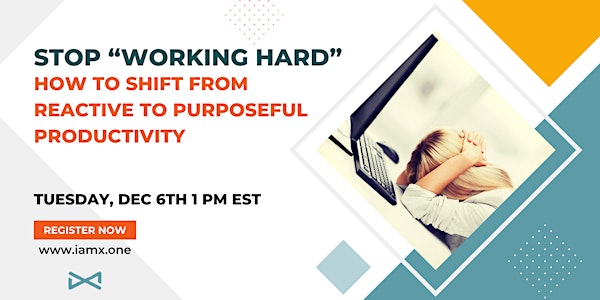 Stop "Working Hard" - How to Shift from Reactive to Purposeful Productivity
Learn how to shift from "working hard" to being purposeful in your productivity.
About this event
Too many leaders get results by piling on more work or reacting to problems and this leads to stress, eventual decreased productivity, burnout, and even illness.
Join executive culture coach, Karen Tax, for this one-hour conversation exploring how badass leadership is not just cool, but how 'staying true' allows you to be a thought leader that gets results.
Be sure to take the pre-event survey!
During this impactful session, you will:
Determine the extent to which your productivity is life depleting (Assess your current reality, individuals/leaders and companies - what your proactivity and productivity looks like)
Assess the cost of hard work that is a grind (What you lose from working this way)
Discover how to pivot to and the benefits of working light. (How to make pivot and what's to be gained)
Learn about the synchronicities that are possible (that my clients have achieved!)
This Masterclass includes:
The event course materials: Workbook, Action Plan Guidebook, and Cheat Sheet (To be provided via email prior to the event)
Your one-on-one Reactive to Purposeful Strategy session
About Karen
I have been privileged to work with innumerable organizations to shift their culture from reactivity into purposeful productivity. Most of these businesses were experiencing confusion caused by a lack of trust or overload caused by intense pressures.
Strategic thinking tied to purpose was hard! Turning things around required more than efficient project implementation. It required a deep understanding of human behavior – and holistic leadership tapped into what motivates people to bring their best in difficult circumstances.
Karen's Areas of Expertise Include:
Team Dysfunction
Burnout and Overload
Mindful & Strategic Leadership
Increasing Employee Engagement
Cultivating 'Thrivable' Organizations
Scaling Startups
What Others Say
"I was able to bring mindfulness into my work life to reduce stress and increase joy in my daily work. I was also able to let go of some old guilt-based thinking that made my work life stressful, and to see my work as creative, focused, productive and even playful. I now operate from a place of inspiration rather than duty/fear, and that is huge." ~ Rich Holloway, Senior Manager, Accuray
"We'd been making decisions well & resolving issues well but running short on time was our biggest struggle. Using IAMX taught us to take an abundance approach to time & get smarter about how we used our time." -M. Russo, Business Unit Leader, ATW Companies
"I'm now able to work with extreme efficiency as the number of tasks I was dealing with increased significantly while simultaneously reducing stress." ~Dan Alvarez, CEO and Founder at Purity ReSource