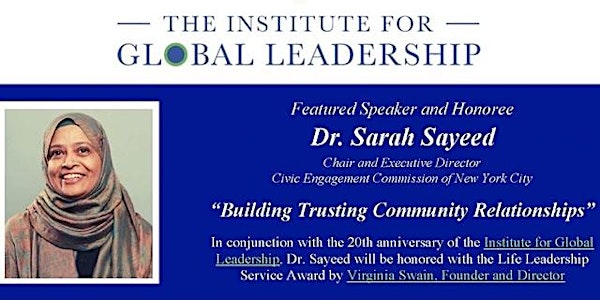 Building Trusting Community Relationships with honoree Dr. Sarah Sayeed
An event to honor and interact online with Dr. Sarah Sayeed. Mayor Petty, Senator Markey & Congressman McGovern send congratulations.
Refund Policy
Contact the organizer to request a refund.
Eventbrite's fee is nonrefundable.
About this event
"Thank you for this honor. In my address I will speak about the work in which I have been engaged for more than 20 years, building bridges, strengthening community cohesion, and connecting communities to government. I will also speak about my personal journey as a Muslim woman, a peacebuilder and protector of human rights."
—Dr. Sarah Sayeed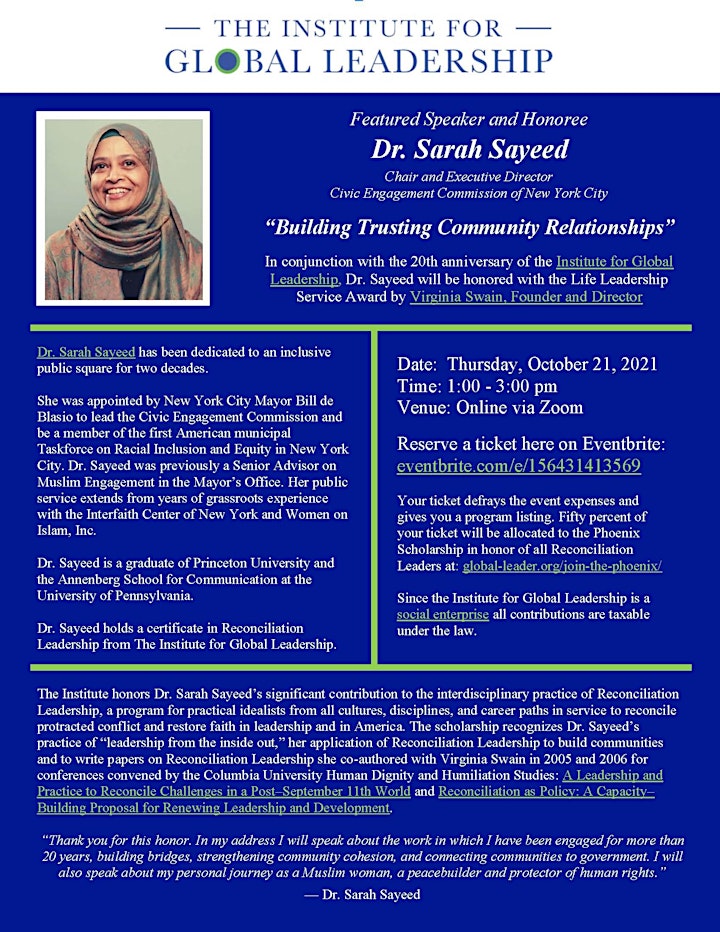 A Recording of the Event is at https://vimeo.com/manage/videos/638012184
n an interactive environment, The Institute for Global Leadership honors Dr. Sarah Sayeed with the Life Leadership Service Award for her significant contribution to the interdisciplinary practice of Reconciliation Leadership, a program for practical idealists from all cultures, disciplines, and career paths in service to reconcile protracted conflict and restore faith in leadership and in America. This event is also offered for the International Facilitators Association Facilitation Week at https://facilitationweek.org/event/building-trusting-community-relationships-with-honoree-dr-sarah-sayeed/
A key to the city of Worcester will be presented to Dr. Sayeed by Mayor Joseph Petty as well as congratulations from Congressman McGovern and Senator Markey.
In this 2021 Year of Peace and Trust at the United Nations, we are launching the Phoenix Scholarship in honor of all the graduates from the program. Your ticket defrays the event expenses and gives you a program listing. Half of the proceeds will be allocated to the Phoenix Scholarship for those who are unable to pay tuition for courses. Since the Institute for Global Leadership is a social enterprise, all contributions are taxable under the law.
About Reconciliation Leadership
The award recognizes Dr. Sayeed's practice of "leadership from the inside out," her application of Reconciliation Leadership to build communities and to write papers on Reconciliation Leadership she co-authored with Virginia Swain in 2005 and 2006 for conferences convened by the Human Dignity and Humiliation Studies at Columbia University:
When United Nations Secretary-General Dag Hammarskjöld changed the definition of peace and global security from outside of us to within each of us, he demonstrated his commitment by personally designing a public meditation room for the United Nations Secretariat Lobby in New York. Dr. Sayeed calls Reconciliation Leadership 'leadership from the inside out" as did Hammarskjold. Listen to Dr. Sarah Sayeed speak of her Muslim faith as a resource from her heart. Singer/songwriter Paulette Meier offers a chant Dag Hammarskjöld's words about the meditation room at https://global-leader.org/applications-of-reconciliation-leadership/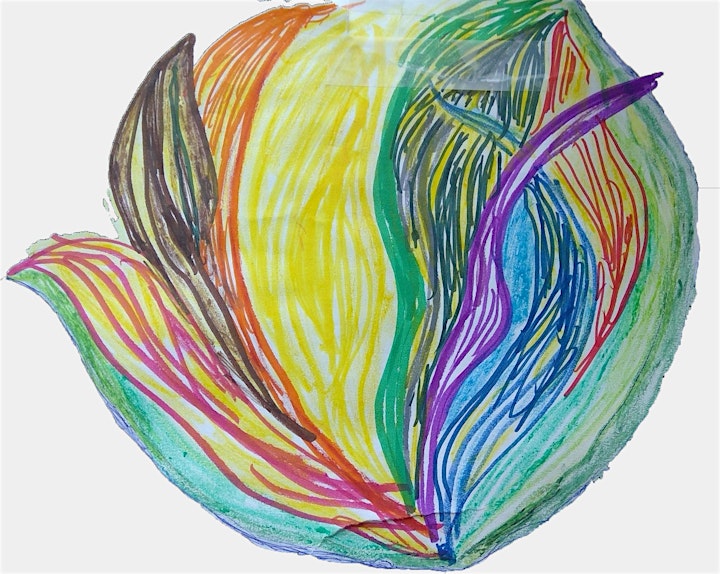 As part of a Covid19 large group project we called Imaging a Global Awakening, Dr. Sayeed contributed the image above called "Intergenerational Voices of Diverse Backgrounds." Listen to an interview with Dr. Sayeed about the impact of Reconciliation Leadership using imaging. Learn More »